LHS

girls show poise under pressure, hold off Jaguars
Lions clutch when it counts in 67-60 victory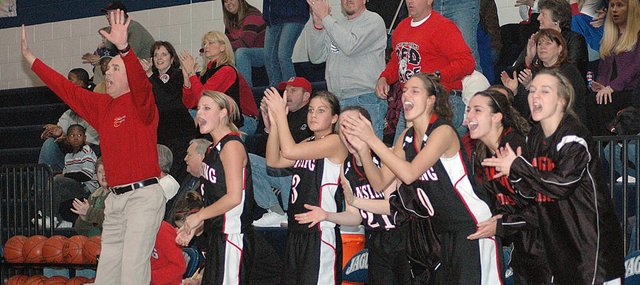 Photo Gallery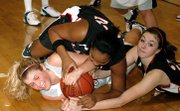 Lansing girls 67, Mill Valley 60
Shawnee — With eight minutes left in its Friday night road game, the Lansing High girls basketball team found its season at a crossroads.
Amidst one of the best seasons in school history and a hot streak that included nine wins in their last 12 games, the Lions were on the brink of suffering a devastating defeat that could have derailed a season full of positives.
They'd played a nearly flawless first half and led by as many as 16 points, but they stumbled hard in the third quarter and trailed by as many as nine to a Mill Valley team that had won six of its previous seven games.
The fourth-quarter gut check that was about to ensue might just be the springboard that propels the Lions into the Class 5A state tournament. They forced four turnovers in the fourth quarter and gave up the ball just once. They made four of seven shots and swished 13 of 17 free throws down the stretch. They were darn near perfect when they had to be, and they rallied for a 67-60 victory.
"We easily could've dropped and cried (when we were) down 10 or 11 points and folded, but the kids played tough," fourth-year LHS coach Keith Andrews said. "It's coming together as a team now, and that's the best part of it. They're enjoying the heck out of it as a team, and so am I."
Mill Valley scored the first four points of the game on baskets by senior Kelsey O'Hara and junior Becky Newhouse, but Lansing stormed back with a 13-2 run that was sparked by back-to-back three-pointers from sophomore Amy Briggs. In fact, Lansing's third field goal also was a three-pointer - this one by junior Brittney Lang. LHS senior Katie Nietzke buried a three-pointer late in the first quarter, but a baseline jumper by Mill Valley freshman Emily Altman at the buzzer trimmed the Lansing lead to 18-13.
Lansing remained sharp from the perimeter during the second quarter as it made four more three-pointers - two by Nietzke and two by Lang. The Lions also mixed in some inside buckets by junior Alexis Ellis and senior Christine Cordes. Mill Valley struggled to generate field goal opportunities, but the Jaguars kept pace by knocking down seven of 10 free throws in the quarter.
A free throw by Nietzke gave Lansing it's largest lead of the game at 32-16 with 3:47 left in the first half, but Mill Valley closed to within 37-26 by halftime.
LHS made eight of 12 three-point tries in the first half and 12 of 38 field goal tries. Mill Valley was seven-for-17 at intermission but 12-for-16 from the stripe.
"We were just in that mentality that 'OK, we're not going to let up. We're just going to keep pounding it in there, we're going to keep putting it inside and see what we can do and get as far as we can before half,'" Nietzke said of Lansing's accurate shooting in the first half. "I think we did a really, really good job."
After doing so much right in the first half, everything fell apart for Lansing in the third quarter. Meanwhile, Mill Valley returned to the court with more determination. The Lions' shots stopped falling, and the Jaguars seemingly couldn't miss. They made seven of 17 shots in the quarter, including a pair of three-pointers by Altman and another by Newhouse. They also made nine of 11 free throws and outscored LHS 26-8 in the quarter.
Newhouse's three-pointer with 43 seconds left in the quarter gave the Jaguars their largest lead of the game at 52-43. It marked a 25-point swing on the scoreboard since the Lions' 16-point edge midway through the second quarter.
A layup by Nietzke at the buzzer brought LHS within 52-45.
The doubt and frustration that seeped in to the Lions' minds throughout the third quarter quickly disappeared as the fourth quarter began. Cordes knocked down a pair of free throws and scored on a put-back on Lansing's first two possessions of the fourth quarter.
Mill Valley briefly went ahead by eight points at 58-50, but a three-pointer by Nietzke with 5:40 left started a game-ending 17-2 run by the Lions. At one point they forced three straight turnovers. At another point they went to the free throw line on four straight possessions and made seven of eight shots.
A put-back by Cordes with two minutes left tied the game at 60-60. Two free throws by Ellis gave the Lions the lead for good. Then Briggs sank two more for a four-point cushion.
On the ensuing possession, Mill Valley rolled the inbounds pass toward midcourt to save a few valuable seconds, but senior Amanda Darrow dove in and forced a jump ball that gave the ball back to Lansing and sealed the victory.
Darrow said perseverance was the key to victory.
"Even though things weren't going our way, we just stayed together like a team should, and it came out to our advantage and we ended up winning," she said with a smile.
Nietzke credited her teammates for not losing focus when times got tough.
"We kept our composure so well, and I'm so proud of everyone," she said.
Lansing shot 33.9 percent from the field (19-for-56) but was a blistering 60 percent (nine-for-15) from three-point range and 74 percent (20-for-27) from the free throw line.
Mill Valley shot 39.1 percent from the field (18-for-46) and 75 percent (21-for-28) from the stripe.
The Jaguars had 23 turnovers compared to 15 for Lansing.
Nietzke and Lang led Lansing with 19 points apiece, Briggs had 12, Ellis scored nine and Cordes added eight.
Ellis grabbed a team-high 10 rebounds for LHS, Cordes had nine and Lang had eight. Nietzke had a team-high three steals, and Darrow and Lang had two apiece.
Although they didn't score, Andrews also praised reserves Morgan Chiles, Katelyn Griffen and Retha Cioppa for stepping in and providing support at key moments.
Altman led Mill Valley with 16 points, O'Hara had 14, Newhouse scored 12, Kaitlen Stacy and Nicole Garretson scored six apiece, Whitney Hartman had four and Allie Graviette had two.
Lansing improved to 13-6 with the win, and has all but assured itself of either a No. 1 or No. 2 seed in the Class 5A substate tournament. LHS closes out the regular season on Feb. 22 against a struggling Perry-Lecompton team that is just 4-13. The next closest teams in the substate are Shawnee Heights (12-6) and Washington (10-7).
"This was our make-or-break game," Nietzke said. "We said we have to come in so focused and we have to come in very strong, because if we don't we could have a coin-flip (for the one-seed), and we don't want to be in that position anymore.
"We're always the Lansing team that's really good, that's right there, but they can't get over that hump. I think tonight that was our hump, and we got over it."