Acquiring a feel for an ancient art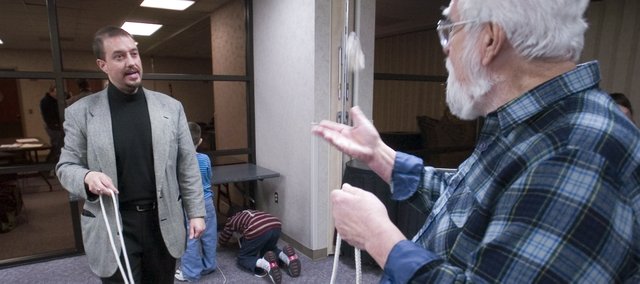 "Pick a card, any card - as long as it's a card," Wayne Regan said, holding out the fanned deck.
Preparing to do a simple card trick for just the second time, however, it was clear that Wayne needed a little more practice. Practicing may be the biggest part of becoming a magician, something students learned in a magic class offered through the Shawnee Parks and Recreation Department.
"You kind of acquire a knack for a trick, a feel for it," said Keith Leff, a Shawnee resident and magician teaching the class. "You'll learn that if you continue to practice it."
The six-session Close-Up Magic class, which had its last meeting Wednesday, was a new offering from the parks department and promised to teach students the fine art of timing, misdirection and slight of hand in some simple magic tricks.
"The whole point of practicing is to make it look natural - you don't want people to know it's misdirection," Leff said.
Students were able to use the reflective coating on the windows of the Shawnee Civic Centre to watch themselves practice.
"You might feel silly when you're by yourself talking, but the more you do it, the more you know your routine," Leff said. "You'll learn things that I'm not able to teach you when you're practicing."
Leff, who owns a magic business, Magicreations, has been studying magic since he was just 7, and he earned his way through college as a "magical bartender." He got a degree in mass communications and public relations and worked for a Sprint for five years, while still remaining involved in magic.
When he won a regional magic competition and began getting requests for performances, he decided it was time to fulfill his dream of being a full-time magician.
Now he can be found performing in several venues on a regular basis, including Old Shawnee Pizza on the second and fourth Tuesdays of the month. He's taught magic classes through his Magicreations Mentoring Program and given magic lectures for clubs and other magic organizations, but this class was his first time teaching through a parks and recreation department.
During the Jan. 23 class, Leff encouraged students to come up with their own pattern - a story or routine told while performing the trick. It could give a reason for the trick, which student Jessica Clark did while performing the "French drop," a coin disappearing trick.
"My sister always says I have a hole in my head, so I'm going to test that," she said, smacking the coin into her forehead as it disappeared.
After a moment, Jessica's nose began to twitch.
"Ah-ah-achoo!" she sneezed, and the coin came flying out of her nose.
She performed the trick rather than making the coin disappear from her hand to her pocket, because it so happened that the pants she wore to class had no pockets.
"Pockets are a magician's best friend; remember that," Leff said.
Don Robinson of Shawnee is the class's elder student; while most are closer to age 10, Robinson is a retiree who learned about the class when he was arranging to teach a genealogy class for Shawnee Parks and Recreation.
"I've been wanting to do something like this for a long time, and the opportunity came up, so I jumped in," he said.
At least week's class, the students learned a more complicated trick involving disappearing matches. Leff said this was something that could be done without any special equipment and just a little preparation.
"If somebody says 'do a trick,' you should always be able to do a trick," Leff said. "Because it's not very professional to say, 'Well, I can't because I didn't bring anything with me.'"
Leff said he was inspired to become a magician thanks to a neighbor who showed him the ropes, so he has enjoyed passing his knowledge on to his students.
"I enjoy teaching; it's a lot of fun for me and the students," Leff said. "The hands-on instruction, you really can't replace that; it's invaluable to really learning magic."
Shawnee Parks and Recreation will offer an intermediate class with Leff this spring, and a magic camp may be offered this summer. Look for details in the parks and recreation brochures, which will be mailed to all residents in April.
For more about Leff and Magicreations, visit www.magicreations.net.