Bixbys trudge ahead
Family champions for 'Amanda's Law' in daughter's honor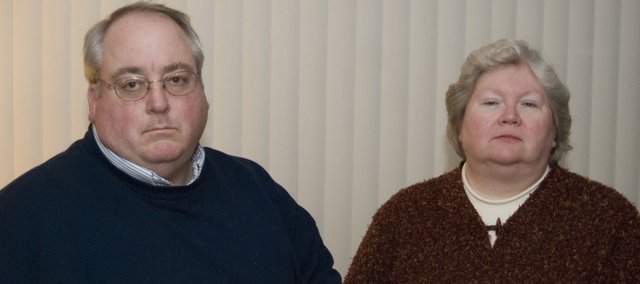 Dennis Bixby turned 47 Feb. 12.
Two days later, he and his wife, Denise Bixby, spent their 25th Valentine's Day together.
Birthdays and Valentine's Day normally elicit warm and happy memories.
That's not the case anymore for the Bixby family.
On Feb. 14, 2007, their only child, daughter Amanda, was killed in a three-vehicle accident in Basehor. She was returning home from her job at Nebraska Furniture Mart that day.
This year, and likely for years to come, the mood at the Bixby house on those days will be more than somber.
On some level, though, the couple had unexpected reason to rejoice on the first Valentine's Day since their daughter's death. She was 19 when she was killed in the accident.
Dennis Bixby learned from state Rep. Kenny Wilk, R-Kansas, on Valentine's Day that Amanda's Law - legislation that the Bixbys introduced to the House with assistance from Wilk and Sen. Roger Pine, R-Lawrence - passed in resounding fashion, 117-5.
Remembering the accident
The accident occurred about 9:15 p.m. when a sports utility vehicle driven by Ricardo Flores, who was 20 at the time, ran a stop sign at 158th Street and U.S. Highway 24-40. His vehicle struck a Dodge Durango driven by Bill Nichols of Basehor before hitting Bixby's Ford Taurus. Nichols' vehicle included his wife, Dawn, their son Juston, 15 at the time, as well as family friends Katelynn and Shelby Witt, 16 and 14 at the time. The accident caused severe foot damage for Katelynn, who still is recovering from the accident.
Amanda Bixby, meanwhile, was about two months shy of her 20th birthday.
The Leavenworth County Sheriff's Office cited Flores for vehicular homicide, failure to yield and no driver's license.
County Attorney Frank Kohl later decided not to pursue the vehicular homicide charge, citing a 2002 Kansas Supreme Court ruling. In State of Kansas vs. Bala Krovvidi, the ruling held that the mere fact that a driver ran a red light or a stop sign did not satisfy the legal elements required for a vehicular homicide conviction.
"Based upon current Kansas law, it requires more than simply running a stop sign to get a vehicular homicide conviction," Kohl said in an interview about a year ago.
About the bill
One week after Amanda's accident, Dennis said he contacted Wilk.
"I told him we needed to do something about the situation and he's the only person I knew who could help," Bixby said.
After several court appearances, Flores eventually pleaded no contest to failure to yield at a stop sign, speeding and driving without a valid license. He was fined and placed on six months probation. Flores also was found to be an illegal alien. He awaits an immigration hearing.
Dennis and Denise, of Tonganoxie, said Flores should have been tested for drugs.
Under current law, a drug test, which is frequently a blood sample, can be ordered only if a law officer has reasonable suspicion of drug use by the person involved in the accident. In the Bixby accident, officers didn't order a drug test for Flores.
But under the House-approved bill, if the accident results in a fatality or serious accident, the officer shall order a test.
During discussion in committee, some legislators said they were concerned that under the proposal, blood could be drawn from people even though they were not at fault and under no suspicion.
The bill later was amended so a person could refuse to allow blood to be drawn, but they could lose their driver's license, which is similar to provisions when an alcohol-breath test is ordered.
In addition, another amendment was added that says if the law officer believes the actions of the vehicle operator did not contribute to the accident, then there would be no blood test.
"I think probably the amendments allayed some of the concerns people had," House Judiciary Chairman Mike O'Neal, R-Hutchinson, said.
He said he was confident the Senate would approve the bill. "I think it will be pretty well received," he said.
O'Neal said it was just a coincidence that the House approved the measure on the one-year anniversary of Amanda Bixby's death.
For Dennis and Denise, they've grieved the loss of their daughter in the last year. But her death also has spurred their involvement in legislative and judicial systems. They've spent time at the county level with Flores' court appearances, as well as at the state level in their push for Amanda's law.
In testifying at the statehouse, Dennis has spent a great deal of time preparing for his testimony, which means very little sleep the night before. As Denise put it "Dennis is spelled 'mess' at that point."
"Pretty much a mess, but I do it because I loved Amanda and someday I'll get to see her," Dennis said. "But I know the accident left us, at a time when we should be grieving and taking that time, we had to answer so many question that no person should have to deal with at a time like that."
Dennis also has been working at the state and federal levels regarding immigration reform. He and Denise met with U.S. Rep. Nancy Boyda, D-Kan., a few months ago regarding reform.
Making an impact
At Amanda's funeral, Denise realized how many lives Amanda truly touched.
"I think I was most surprised that there was this quantity of people she knew fairly well," Denise said. "We stood up at visitation for almost four hours. We greeted probably 500 people that night.
"Amanda knew every one of them."
And friends usually pointed out two things as what she would be remembered for most: Her smile and her voice.
"And just her general orneriness; I don't know where she got that from," Dennis said, jokingly referring to himself.
All kidding aside, Dennis and Denise said Amanda made a strong impression on many. For instance, Amanda, who was very involved with Tonganoxie Christian Church, inspired one woman who is in her 40s to start attending church. She hadn't been to church since she left home for college, Dennis said. Other people have told the Bixbys that they've changed careers and other aspects of their lives to make sure they can spend more time with their family. The loss of Amanda served as a wake-up call.
While working at Nebraska Furniture Mart, Amanda had some extra responsibilities.
Amanda volunteered as an elf before Christmas. In addition, plans also were in the works for her to serve as the Easter Bunny at NFM.
Dennis said Amanda was looking into possibly taking more classes at Kansas City Kansas Community College, but also loved her job at NFM. The day of the accident she had met with employers about a promotion.
"Who knows how that would have turned out," Dennis said. "Music was her passion and that was what she was going to study."
Denise said Amanda initially wasn't planning to be a music teacher because "you know, she needed to be in charge." But she was looking into that field as well.
"She didn't know, but she was getting closer to figuring it out," Dennis said about Amanda's future plans.
Coping with loss
Dennis and Denise have coped with the loss of their only child by staying busy.
After Amanda's death, there was a certain awkwardness when Dennis and Denise walked into a room at some event or restaurant. That sometimes can occur, as people might struggle with how to approach someone who just lost a loved one.
"We've stopped being the pariah at events," Denise said.
Those days have passed. Now, the couple concentrates on remaining busy and offering their time to others - especially during difficult times, such as Christmas.
For instance, the couple decorated trees for the Tonganoxie Public Library's Festival of Trees at Christmastime.
"We just spent this last Christmas trying to make a good Christmas for other people's families," Dennis said.
Dennis also refurbished a piece of furniture that had belonged to his mother - who won the furniture for a dime at a raffle 40 years ago. Plans were in the works for Amanda to have it, as it was going to fit in with her room's furniture.
Instead, Dennis donated the item to the Tonganoxie High School music department for - another raffle. The raffle raised $600 and went toward scholarships to be given to music students.
When the Tonganoxie High School Booster Club first looked into renovating the main entrance to Beatty Field, Bixby volunteered his time with drawing up designs for the project.
He did the same for the Chieftain Remembrance Walk, which Kelly Frantz and her mother, Pam Jeannin, have spearheaded.
That family knows what it's like to lose a loved one at an early age. Kelly Frantz's husband, Lucas, was killed while serving in Iraq in 2005. He was killed on his 22nd birthday.
Although remaining busy has helped Dennis and Denise cope with Amanda's loss, they say the many prayers from friends and family have gotten them through as well.
"Through this whole thing we've had the best of Tonganoxie," Denise said. "I can't begin to tell you the ways that people have done things for us and didn't know who they were. So many acts of kindness.
"And not just Tonganoxie. People from all over."
Those accounts indicate Amanda will not be forgotten.
"Truly Amanda was my world.," Dennis said. "And when we realized she was going to be our only child, that just takes it to a different level."
The Bixbys said they do many of the same things they did before Amanda's death, but with one obvious difference.
"We still do a lot of the same stuff," Dennis said. "Instead of it being as fun as it could be, it's just kind of stuff. Things to keep busy."