10 Lions qualify for state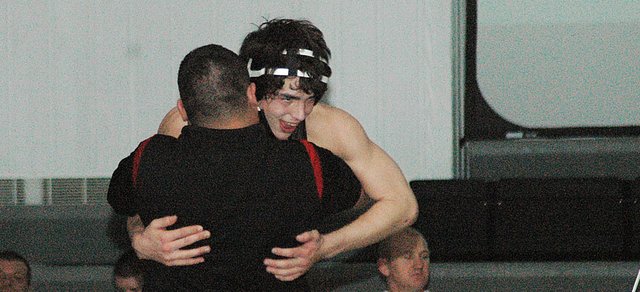 Photo Gallery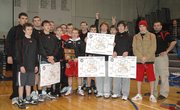 LHS wrestlers second at regionals
Topeka — For most of the season, the youth-dominated Lansing High wrestling team has operated below the radar as far as state recognition is concerned.
Senior 152-pounder Nick Flynn and junior 160-pounder Grant Hinckley, both returning state medalists, are the only Lions who have cracked the state polls.
Lansing had its first true opportunity to impress its Class 5A counterparts Saturday at the regional tournament at Seaman High School, and the young Lions made quite the impression.
LHS placed second as a team behind Shawnee Heights, and the Lions qualified 10 individuals for state. Among those individuals were eight state novices, including a whopping seven freshmen. Flynn and Hinckley also are headed back to state, Hinckley for the second time and Flynn for the fourth.
The 10 qualifiers is the third-highest total in program history (the 2005 team sent 12 and the 2006 team sent 11), and the seven freshmen is a record.
LHS coach Ron Averill said he's taking a competitive bunch to state.
"I've been trying to preach to them all year that the first thing you've got to do is get there," Averill said. "The second thing is you go out there and make something happen. We've put ourselves into position to really get out there and make some good things happen to us."
Few things went wrong for LHS at regionals. Six Lions advanced to the finals in their weight classes, and four won championships. Freshman Spencer Blew won at 125 pounds, freshman Tyler Terron won at 140, Flynn was the champ at 152 and freshman Nathan Wessel won at 171.
Hinckley and freshman 145-pounder Tyler Baughman both were runners-up. Rounding out the state qualifiers were freshman Dillon Scanlon (third-place, 130), junior Tyler Strouhal (third, 215), freshman Brett Brown (fourth, 103) and freshman Garrett Hinckley (fourth, 119).
Blew was as dominant as any wrestler at the tournament. He won all three of his matches by pin, including one in the finals against Jermaine Rhone of Schlagle that took just 80 seconds.
His classmates dominated, too. In particular, Wessel was a force in his bracket. He won his first match by pin, then claimed an 8-1 decision against No. 1 seed Nick Moore of Highland Park, who was ranked sixth in the state. Wessel then pinned Sumner Academy's David Selleck in the first period of the finals.
Blew said he was surprised by just how strong his class performed.
"Everyone said we were going to be good, but I didn't expect the majority of the team going to state to be freshmen," he said.
The state newcomers will have two state veterans to look to for guidance. Hinckley placed fourth at state last year at 160, and he's taking a 32-6 record to the tournament this year. Flynn is a four-time state qualifier, four-time regional champ and two-time state medalist. He finished second at 145 last year.
Flynn said he is impressed with the freshmen, and he said they are prepared to compete at state.
"I was proud of every one of them how they wrestled," he said. "They all wrestled smart, and they're starting to realize that I can win matches by one or two points and it's the same as pinning guys. They're starting to wrestle smarter, and things are starting to come to them. I liked the way they wrestled, and I think they're going to be good for state."
Flynn said he's excited about his own prospects at state, even though he and Bishop Carroll's Kyle Detmer are on the same side of the bracket. Detmer beat Flynn in the finals last year.
"It's just one more shot, so I'm going to try to make the best of it," he said of his final trip to state. "I'm going to try to keep calm about it, and I'm just going to wrestle and have some fun."
The Class 5A state tournament takes place Friday and Saturday, Feb. 22-23, at Hutchinson High School. Wrestling begins at 9 a.m. Friday.