B-L board approves changes at the top
Superintendent to retire at end of '08-'09 year; assistant tapped for post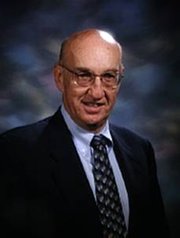 Basehor-Linwood School District Superintendent Bob Albers has decided next year will be his last year in the district.
Albers, who is currently serving his second year in the district, announced his plans for retirement after school board members renewed his contract for the 2008-2009 school year.
"I think it's time to do something else and not in the way of work," he said. "I'll be nearly 70 years old, and that's long enough."
One of the main reasons Albers said he decided to stay another year was because of the upcoming building projects in the district related to the recently passed bond issue.
"I wanted to be here through the process of getting the construction started," he said. "I'd like to be involved in the initial phase."
The board also renewed Assistant Superintendent David Howard's contract at Monday's meeting then announced Howard would take over as superintendent beginning in the 2009-2010 school year when Albers steps down. At the same time, Basehor-Linwood Middle School principal Mike Boyd will become assistant superintendent.
Albers said plans for Howard's transition into the superintendent's position have been in the works since Howard was hired last year.
"Mr. Howard was hired with the idea that he would probably move up," Albers said. "When we found out that Don Swartz (former assistant superintendent) was retiring, we suggested that we hire someone that we were comfortable with to make the succession."
Howard, who was superintendent in the Chase-Raymond School District before accepting his current position with Basehor-Linwood, said he's excited and ready to take on the challenges of his new job.
The changes will not take effect for about another year and a half, so Howard said he does not have any set goals or agenda yet. He said he would continue to observe and gather as much information working under Albers during the next year.
"It's been a great learning opportunity to work under him this year," Howard said. "I think I could use a lot of what I glean from him to be successful when he leaves officially. I just want to see our district grow and continue to be one of the premier districts in the state of Kansas."
School Board president Randy Cunningham also expressed his confidence in the board's decision and Howard's abilities.
"David was actually a superintendent when we hired him," Cunningham said. "He did a great job out there as we understand, and he's done a great job for us this year. Plus, being mentored by Bob, I think he'll step right in with no problems at all. He'll just move from one desk to another and won't miss a beat."
As for Boyd, Cunningham said the board made the decision to promote him because of his knowledge of the district and his reputation as an administrator.
After earning his bachelor's and master's degrees from Kansas University, Boyd earned a special degree from Pittsburg State University and began teaching physical education and health in the Shawnee Heights school district in Topeka. He also taught in Independence schools before coming to Basehor-Linwood to serve as assistant principal at Basehor-Linwood High School. After a year, he moved into the principal position at BLMS and has been there for the past 17 years.
"Mike has been in the district a long time and is very knowledgeable," Cunningham said. "We've really enjoyed promoting from within. We just feel like he'll do a great job."
Boyd said the next year is going to be one of transition, which means he is expecting a lot of situations where he will be looking over Howard's shoulder to see what he is doing as well as taking on a bit of a dual role.
"The situation is right, it's a great place to be, they offered it to me and the timing was right," Boyd said about earning the position. "The biggest thing is to put the kids first and offer a quality education."
One thing Boyd said would be difficult about the transition is leaving the middle school after so many years.
"It's going to be really hard to leave the kids and the staff because that's what has made this place so special," he said.
Cunningham said the board usually dos not announce this sort of news so far in advance, but decided it was something district employees and patrons should know.
"We decided we would go ahead and announce it now so there would be no doubt about what was going to happen," he said. "It is not normal to announce things this early. We just wanted everybody to be on board with it."