Lansing schools take position against bullying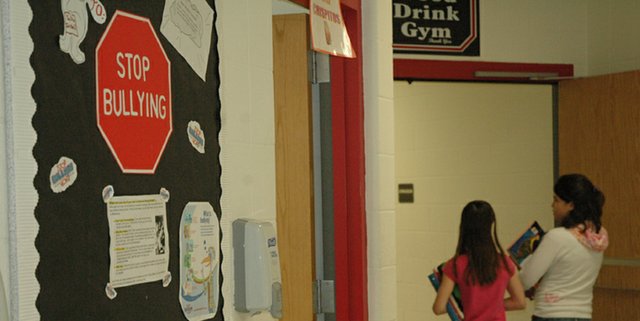 Bullying can have a crippling effect on the students who are forced to cope with it everyday.
Whether it's physical or verbal, the actions leave a permanent scar that will always be remembered by the victim.
In an effort to curb this problem, which according to the U.S. Health Resources and Services Administration affects 15 to 25 percent of U.S. students, the state of Kansas has passed Senate Bill 68.
The bill, effective Jan. 1, 2008, mandates that all Kansas school districts adopt policies for the prevention of bullying. Schools will also have to implement a plan to train staff and students about bullying prevention.
The HRSA, through a campaign called, "Take a Stand. Lend a Hand. Stop Bullying Now," reports that as many as 160,000 students stay home on any given day because they're afraid of being bullied.
Lansing school district is no exception, so officials and administrators have already begun looking at new ways to deal with the problem.
Donna Hughes, assistant superintendent of the Lansing school district, said the district has always addressed bullying in its discipline policy that has been around for eight years, but added that the new bill gives the district the chance to improve upon what's it's always done.
"It's just part of what you teach the kids and part of what our expectations are," Hughes said. "(Students) have to be in a safe environment for them to learn. If they don't feel safe then they can't learn and we're not doing our job."
Hughes said that each of the schools - Elementary, Intermediate, Middle and High School - will soon be working on their own policies toward bullying, which must be completed by the end of this school year.
While the district has its own policy in place and has made is clear it will not tolerate harassment or intimidation in any form, Hughes said she was looking for a more strategic way to get the message into the classrooms.
At the middle school, a policy on bullying has already been written and work has started on additional programs to educate students, teachers and parents.
Kerry Brungardt, LMS principal, said this is the first time the school has gone in depth with its bullying policy. Bullying has never been tolerated, but Brungardt said the school is taking an active role to educate why it's so important to face the problem head on.
"In order for you to have a safe school you have to cut down bullying," he said. "You have to train your teacher, and more important, you have to train your kids. Arm them with knowledge to go to an adult to get concerns answered and if they see (bullying) occurring to not join in."
For Brungardt, education starts with the encouragement of positive character traits and appropriate behavior by students. The school-wide program, "Be the change," tackles several issues students face at a young age. Brungardt said bulling will be one of those issues to make sure students are getting the message that what many are doing is hurting others more than they may think.
"It can totally cripple a kid," Brungardt said. "I have seen bully situations before and parents talk about bully situations where kids actually don't want to come to school, stop eating, don't sleep well. It consumes them."
Brungardt said that parents are getting fed up and want more to be done to protect their children. Part of the training the middle school will implement will be for the parents themselves, however.
Many times parents advise their children to ignore the bully and the situation will go away. Brungardt said 99 percent of the time that doesn't work. Both parents and students need to understand that an active stance on bullying is necessary and that all problems should be brought to the attention of school officials.
"I would like to think that we have a good handle on bullying but the reality is that we as adults don't see most of what happens," he said. "It's a whole different sub culture so we need to arm kids with the kind of knowledge that they start telling someone."
The school has also made plans to have a mural painted on a wall within the school. Brungardt said the idea was that everyday students would walk past it and be reminded of the powerful consequences their actions can have.
Within the new policy, discipline for bullying at the middle school can be handled in ways that fall under a wide range. Depending on each individual situation and the severity of the action, students could either be called into the office, expelled or "anything in between," Brungardt said.
"What I'm attempting to do is make LMS the safest school it can possibly be," he said. "I want kids to feel good. Kids have a right to come to school and feel safe, protected, valued and loved. We, the staff, need to see that those things are enacted."
For Tim Newton, principal of LES, he understands that's it's important that bullying prevention start at an early age.
Counselors at the elementary school work on a program with their students that teaches them how to handle bullying and the importance of being nice to one another. Much of the bullying that goes on at the elementary level is verbal and sometimes harder to recognize, Newton said.
"I think bullying is a problem in general society," he said. "It's in every school and every walk of life."
That's were education comes into play. Newton said his counselors do a good job teaching students how to recognize when someone is being bullied and how to be a good citizen. The elementary school takes a proactive stance on bullying, Newton said, by preventing the acts from happening with early education.