Rescuing the abandoned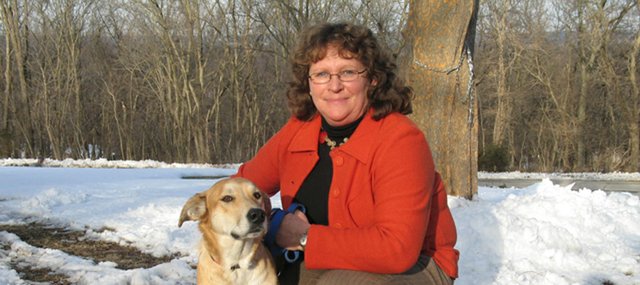 For Andrea Mamaux and other members of the Leavenworth Animal Welfare Society Inc., (LAWS), saving stray and unwanted pets is an everyday mission.
Mamaux, a German native who moved to Leavenworth because of her husband's military career, spends much of her time trying to find homes for cats and dogs that are sent to Leavenworth Animal Control, 1720 S. Second St.
On a limited budget that is based solely on donations, Mamaux and around a dozen other active LAWS members regularly volunteer at the shelter, where they strive to vaccinate, deworm, spay and neuter as many pets as possible.
"We try to improve the animals' quality of life," Mamaux said.
With the help of LAWS, nearly 1,000 animals are spayed and neutered in Leavenworth County each year, according to the group's director, Anne Divine.
In addition to volunteering, Mamaux also often takes dogs into foster care herself.
One of her dogs, Miracle, or Mira, she found running up and down Kansas Highway 5, southeast of Lansing.
Several neighbors reported seeing a stray dog and someone notified Divine.
"I went out, picked her up and took her right to the vet," Mamaux said.
Mira suffered from a severe limp, and the veterinarian detected bullet fragments in her hind leg that had been there for several weeks.
Mamaux assumes that someone opted to shoot the collie mix rather than look for another home for her.
After about six weeks, Mira was taken to a specialist, and her leg had to be amputated due to an aggravated blood vessel that was causing massive swelling.
Today, Mamaux says Mira is a happy dog. She can still outrun many of her four-legged counterparts, and, "She is finally not as shy toward men."
Mamaux encouraged anyone wanting to adopt a local cat or dog to visit lawspets.com or the Leavenworth Animal Control Web page at petfinder.com/shelters/lv.html.
"What still baffles me is that so many people do not know about animal control," she said.
NAME: Andrea Mamaux
ADDRESS: Leavenworth
OCCUPATION: Registered Nurse
FAMILY: David, husband; Christopher, son, 23
HOW LONG HAVE YOU LIVED IN THE AREA, AND WHAT BROUGHT YOU HERE? "8 years : military."
WHAT DO YOU LIKE MOST ABOUT THE AREA? "I have wonderful friends here, because of the rescue business."
WHAT DO YOU DO FOR FUN? "I like to take my own dogs to the airfield : It's great exercise and really a joy for me. Also the theater. I like to read and swim."
WHAT IS THE BEST ADVICE YOU HAVE EVER RECEIVED? "If you only have five dollars in your pocket, don't spend 10."
WHAT CLUBS OR ORGANIZATIONS DO YOU BELONG TO? Leavenworth Animal Welfare Society