Dazzling defeat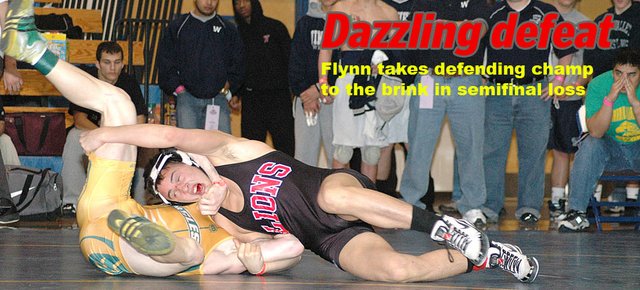 Photo Gallery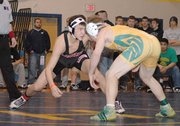 2008 state wrestling tournament: Nick Flynn vs. Kyle Detmer state semifinal match
HUTCHINSON — Few people gave Nick Flynn a chance in his 152-pound semifinal match against Wichita Bishop Carroll's Kyle Detmer on Friday night at the Class 5A state tournament.
And why should they have?
Detmer was the defending state champion and owner of a 33-0 record.
Oh yeah, he also won all 33 of those matches by pin. 'Nuff said.
Flynn had other plans, though. The Lansing High senior was the last person to wrestle Detmer and not lose by pin. That came in an 8-3 loss to Detmer in last year's state finals.
Flynn also had a plan, and it almost paid off. He went nose-to-nose with Detmer from the opening whistle, dug out of an early hole and nearly pinned the state's No. 1-ranked wrestler before falling in an 8-7 thriller that brought the fans to their feet at the Salthawk Activity Center.
"My dad came down and talked to me before the match and told me, 'It's one more time to put it all on the line,' and it just got me thinking it really was," Flynn said. "And Detmer's just a battler, he goes after you, so I was just trying to wrestle my game and wrestle smart. I knew how he wrestled and I had a game plan against him, and I just wanted to have some fun.
"I went in there and gave it all I had. It was a good match."
Flynn was light on his toes at the start, dancing and dodging and poking at Detmer's head.
"I saw a lot of excitement and joy on his face just within the first 10 seconds when he was banging on his head, just moving and shaking and ticking Detmer off," LHS coach Ron Averill said. "That was good. He really set the tone there for what he was going to do. He let him know right off the bat that I'm coming after you."
Detmer used his superior strength to score two first-period takedowns and take a 4-1 lead. A second-period reversal bumped Detmer's lead to 6-1, but with 48 seconds left in the period Flynn pulled a reversal and put Detmer on his back - nearly pinned - for a two-point near-fall.
The crowd roared and gasped with excitement, and Flynn pulled within 6-5.
"All week I knew I was going to wrestle Detmer, so all week I've just been playing through my mind how am I going to wrestle, and I know he does that, pushes your head donw and waits for you to come up," Flynn said. "A million times playing the same move through my head every time, and then I just found myself in the position and I just drilled that leg right in.
"It felt good and I had him on his back for a little bit, and I heard everyone scream and I just so bad wanted to squeeze as hard as I can. I did, I gave it all that I had."
Detmer pulled a reversal late in the period, and Flynn earned an escape point to pull within 8-6 by the end of the period.
Flynn spent most of the third period in pursuit of a takedown, but he was unable to do so. Detmer fought him off, and backed away at times. As the seconds dwindled down, Flynn continued to go after a takedown. Detmer backed away and was called for stalling with one second left in the match. That brought Flynn within 8-7, but time ran out quickly thereafter.
Flynn said he had a blast during the match.
"It's something I'll remember the rest of my life," he said. "Just hearing the crowd starting to go crazy at the sight of Kyle Detmer on his back : it's a good feeling."
"Detmer's a great wrestler, as you can see by his record and last year at state, and he knows when to put it on," Flynn added. "But it was a good, fun match, I thought."
Flynn fell to 40-4 with the loss, and he will wrestle Saturday afternoon in the consolation semifinals.
Seven other Lions still have a chance to earn medalist honors, but they need to win their first two matches of the day Saturday. Those wrestlers are freshmen Spencer Blew (125 pounds), Dillon Scanlon (130 pounds), Tyler Baughman (145 pounds) and Nathan Wessel (171 pounds) and juniors Grant Hinckley (160 pounds) and Tyler Strouhal (215 pounds).
Freshmen Brett Brown (103 pounds), Garrett Hinckley (119 pounds) and Tyler Terron (140 pounds) all went 0-2 and ended their seasons Friday.
Flynn's match against Detmer was Lansing's highlight of the day, but another bright spot came in the final match of the night when Strouhal pulled out a 7-6 overtime victory in the consolation first round and kept his state dreams alive.
"We're hoping it'll be a momentum boost for everybody," Averill said of Strouhal's dramatic win. "It's awful nice ending the day with a couple wins. Hopefully those wins are just going to be a boost for everybody getting started on the right foot tomorrow."
For an in-depth look at all of the Lansing wrestlers' matches Friday, as well as for photo galleries and video footage, check out the "State Tournament Central" report.
Live coverage of Saturday's competition can be found at lansingcurrent.com.