Meteorologist visits
GRES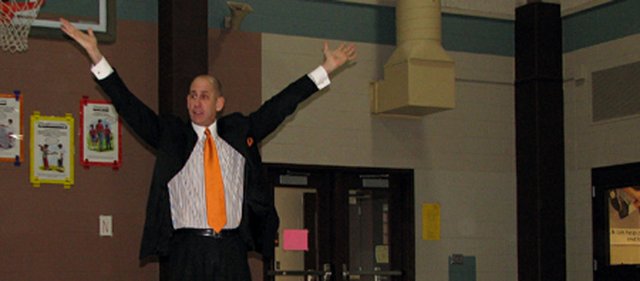 Glenwood Ridge Elementary School third-graders shrieked and waved their hands in the air Friday afternoon as NBC Action News meteorologist Gary Lezak panned the crowd with a small video camera.
"I'm going to video tape you guys then put you on the 6 o'clock news," Lezak said, earning more happy shouts from the children.
The students received a visit from Lezak as a tie- in to the weather unit they had been working on. He spoke about his career, the importance of school, what to do in severe weather and answered some questions students had prepared for him.
"Ever since I was 5 years old, all I ever wanted to do was tell people about the weather," he said.
He moved from Oklahoma to Kansas City after college in 1992 and began working at NBC Action News in 1999, he said.
He explained that the most important school subjects to become a meteorologist are math, science and, of course, reading.
"Reading is so important," he said. "Read something every day and it will help you have a nice career one day."
While a quick poll revealed most of the students' favorite weather was sunshine, the majority also didn't mind when it snowed so much that school was cancelled. Lezak predicted more snow this winter, but reminded students the severe weather season was just around the corner.
There are three rules for tornadoes, he said lowest level, center part and smallest room. If there isn't a basement to take shelter in, he said, the next best spot is in a bathroom or closet. He later told a scary story about his one and only encounter with a tornado after storm chasing with his brother and how he never wants to see another one again.
"I'll let you know if there's going to be any tornadoes," he said.
The children showed off their knowledge of the different types of clouds as Lezak quizzed them. Then, they practiced counting between a lightning strike and a clap of thunder to determine their distance from the lightning. He said that every five seconds between seeing the bolt of lightning and hearing the thunder is equal to one mile and explained that the thunder is actually the sound the lightning makes because sound travels slower than light.
"The sound is the 10,000-degree heat expanding in that lightening bolt," he said.
At the end of the presentation, students also got a visit from Lezak's dog, Stormy, a 7-year-old sheltie/shepard mix. He said he adopted Stormy from the Humane Society of Greater Kansas City and he and Stormy along with his other dog, Breezy, will be hosting a Pet Telethon March 9 on Channel 38 The Spot. Stormy then performed her many tricks for the students including playing dead and twirling like a tornado. A few students got the chance to reward her with a treat.