City takes more steps toward new park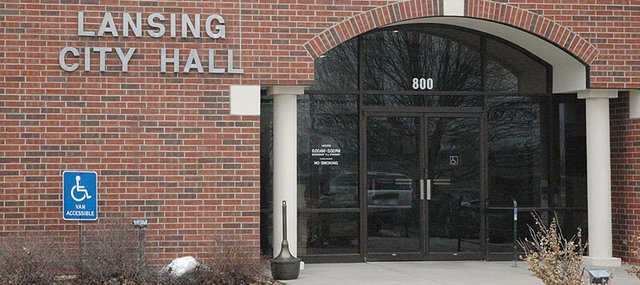 With a contractor in place, Lansing residents can expect to see work on a new city park begin in just a few short weeks.
The city council, in a regular meeting Thursday, accepted, 8-0, the low construction bid from Oskaloosa-based King's Construction Inc., for the first phase of the 127-acre park, to be located west of Kansas Highway 7 on Gilman Road.
The bid one of 12 of its kind came in at $1.23 million, almost $600,000 less than what was estimated by city staff.
That figure was down from an estimated $2.2 million price tag given at the beginning of the month after a bridge was removed from the plans.
Phase 1 of the park project will include clearing and grading land, putting in infrastructure for storm drainage and creating the park's main road and parking lot.
Ground will be leveled and seeded on and around four baseball diamonds and seven soccer fields, and the pad for a future, large marketplace shelter will be laid.
Lansing Parks and Recreation Director Jason Crum said construction should begin in March and is scheduled to last 180 days.
Council members also approved the city's share in the cost for a justification study that will determine the need for a regional airport somewhere in Leavenworth County.
Using $100,000 as a maximum amount for the study, which is being funded by Leavenworth County and the four major cities in the county, Lansing will provide up to $6,877 out of the city's legal and professional fees line item in the general fund.
In other business Thursday:
¢ The council heard comments from Leavenworth resident Louis Klemp concerning cost projections for the County Road 1 improvement project, leading to a proposed interchange with the Kansas Turnpike.
Klemp said he opposed using over $10 million of the county's portion of special sales tax revenue to fund a project that mainly benefits residents in southern Leavenworth County.
"I personally feel that : Lansing is entitled to a certain part of that money," Klemp said.
He noted that Lansing's expected $6.9 million (including interest) in sales tax revenue by 2016 was dwarfed by what he saw as a $12 million windfall for the city of Tonganoxie.
Klemp reasoned that the $10.8 million that County Commissioners have designated for County Road 1 improvements would benefit Tonganoxie more than any other city.
He suggested drafting a letter to the board, requesting a final figure for the project.
"Where are we stopping with what we were promised," Klemp asked, adding, "because there are projects that benefit Leavenworth and Lansing, too."
Council president Andi Pawlowski said she agreed in many ways with Klemp.
"I think the project has gone from this size to this size," Pawlowski said, gesturing. She added that, with the way most street projects go, too, "It's not going to stop there."
Council member Tom Smith was more reticent to offer up any involvement.
"I need to have more information before we get in the middle of a major countywide project," Smith said.
¢ The Council accepted, 8-0, a bid from Lexeco, Inc., of Leavenworth, for adding aluminized linings to two damaged storm water pipes under Willow Drive between West Gilman Road and Southfork Road in the Rock Creek/Southern Hills subdivision at $31,050, to be paid from the city's storm water fund.
¢ Mayor Kenneth Bernard quelled rumors saying, because of the city's debt load, city services would have to be cut and city staff could be laid off.
"The city is actually in pretty good financial shape," Bernard said. " : We just delayed the pool; and that was to protect the city from future taxes."
¢ Basketball commissioner Rich O'Donnell gave a report on the parks and recreation department's youth basketball leagues.
O'Donnell said 289 first- through fifth-graders on 33 teams have competed this winter and will wrap up play the first weekend in March.
Later in the meeting, Council member Billy Blackwell commended all coaches and other volunteers with the youth leagues, saying, "There's a lot of great people out there that we couldn't get by without."
¢ Council members unanimously approved a motion by council president Andi Pawlowski to invite any branch of the Armed Forces to bring a recruiting office to Lansing.
¢ Council member Harland Russell congratulated Cub Scout Pack 3165, which is celebrating 50 years since its original charter in 1958 this year.
¢ Council member Janette Holdeman asked public works staff to review the timing of traffic signals at the intersections of Main Street with Ida Street and 4-H Road.
Holdeman said constituents have complained about unnecessarily long waits for a green light at the intersections.
¢ Council member Dave Trinkle commended the city street crew for a good job on snow removal and encouraged his counterparts to consider tightening security at council meetings in light of shootings earlier this month at a city council meeting in Kirkwood, Mo.
¢ Council members approved the minutes from a Feb. 7 regular meeting, 8-0.
¢ The Council met in executive session prior to its public meeting to discuss personnel matters.