Crunching Numbers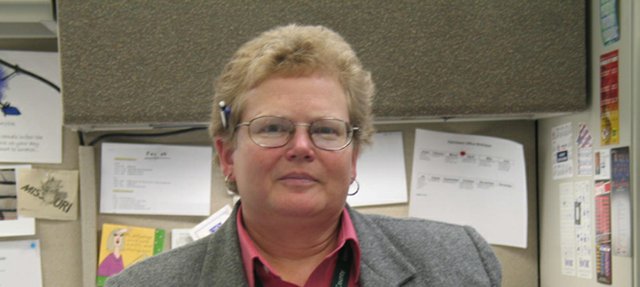 It's tax season, and for Sue Thayer, personal property manager with the Leavenworth County Appraiser's office, it's the busiest time of the year.
Scores of personal property renditions or listings of what property residents and business owners own will make their way across Thayer's desk in the coming weeks.
According to state statute, things like heavy trucks, mobile homes, business equipment, watercraft, trailers, all-terrain vehicles, airplanes and even hot air balloons all must be declared, Thayer said.
The 2008 renditions, which were sent out the last day of 2007, must be filed by March 15 or residents may be subject to a 50 percent penalty for failing to sign. After a November tax bill, first half taxes will be due Dec. 20, 2008, with second half taxes due next May.
On a day-to-day basis, Thayer said she values renditions, is in charge of quality control, solves departmental problems and attends Leavenworth County Board of Tax Appeals hearings.
Despite living with the stigma of a hard-nosed tax collector, Thayer said she enjoys her job.
"It's interesting everyday," she said. "It's never the same thing. You're dealing with different people everyday.
"Taxpayers for the most part are people just like me, just trying to make a living : I don't want them to have to suffer, but I have to have the correct information so we can value it accurately."
It is not unusual to see Thayer assisting visitors at the County Courthouse.
"We're happy to help them fill out any kind of form and to help them understand the process," Thayer said, adding the appraiser's staff tries to be as taxpayer friendly as possible.
That can be difficult, though, especially with residents who aren't too happy with their tax bills or for those who don't file personal property taxes altogether.
A lot of times Thayer has to track delinquent taxpayers down and, in some cases, must issue liens on property. Other times, changes must be made on her end if, for instance, someone's property was sold, someone moved without notifying the appraiser's office or some other error was made.
Thayer noted, "If everyone would report everything as they're supposed to, taxes would be lower for everybody."
She added, "I like this job, but I can't say that when I'm up for retirement in 10 years I won't take it. It can be stressful."
NAME: Sue Thayer
ADDRESS: Leavenworth
OCCUPATION: Personal property manager, Leavenworth County Appraiser's office
HOW LONG HAVE YOU LIVED IN THE AREA, AND WHAT BROUGHT YOU HERE? "Since '91 : work."
WHAT DO YOU LIKE MOST ABOUT LEAVENWORTH COUNTY? "It still has a rural area, but it's close to the city."
WHAT DO YOU DO FOR FUN? "I read, play golf. I like to attend sporting events, and I'm just getting back to playing classical piano."
WHAT MIGHT SURPRISE PEOPLE ABOUT YOU? "Probably that I play classical piano and that I was raised as a farm girl up in Iowa."
WHAT IS THE BEST ADVICE YOU HAVE EVER RECEIVED? "Probably be honest and fair, and that was advice from my parents."