Flynn garners respect at state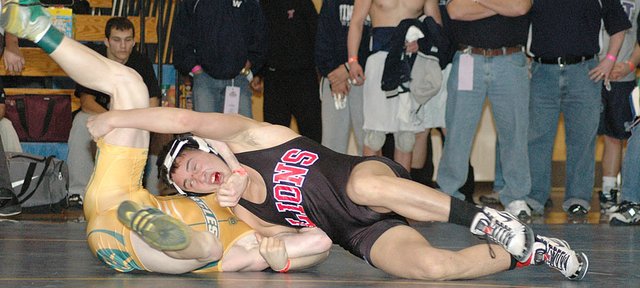 Photo Gallery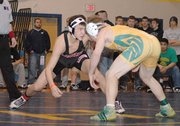 2008 state wrestling tournament: Nick Flynn vs. Kyle Detmer state semifinal match
HUTCHINSON — The elevation difference was only about a foot, but Lansing High senior Nick Flynn didn't care.
To him, there was little difference between standing in the runner-up spot on the podium at last year's Class 5A state wrestling tournament and standing in the third-place position this year.
What mattered was the way he wrestled, and there was no question Flynn was at his best during his final state tournament.
He pinned his first two opponents, took undefeated defending state champion Kyle Detmer of Bishop Carroll to the limit in an 8-7 semifinal loss, and then bounced back with two more dominant victories Saturday to place third.
"I felt like I wrestled pretty darn good, so I'm happy with my performance," Flynn said. "I felt like I left it on a good note."
The lasting memory spectators at the Salthawk Activity Center likely will have of Flynn was his match against Detmer.
Flynn lost to Detmer in the 145-pound state finals in 2007. This year at 152 pounds, Detmer pinned all 33 of his opponents prior to meeting up with Flynn. Flynn learned from his previous experience against Detmer, identified his best moves and his weaknesses, and devised a strategy that almost led to victory.
After falling behind 6-1, Flynn sprung free for a reversal and two-point near-fall in which he almost pinned Detmer.
Detmer eventually eked out an 8-7 victory, but the match ended with him giving up a stall point to Flynn and backing off the mat to avoid being taken down.
After the match, Flynn was congratulated by friends, opponents and strangers alike.
"In a way it feels even better than last year making it to the state finals," he said. "Just getting so much attention from everyone, it feels good."
The only person apparently not impressed with Flynn's semifinal match was Detmer, who told The Wichita Eagle, "I knew he was going to stall the whole time and not wrestle, and that's pretty much what he did," not acknowledging it was he who was cautioned and not penalized a point for stalling - not Flynn.
Carroll coach Darian Eshelman had high praise for Flynn.
"He was on fire, he was coming after us. He was wrestling a great match," Eshelman said of Flynn to The Eagle. "Those things put together caused it to be a very big scare for us."
Flynn said he appreciated Eshelman's kind words and said he didn't take offense to Detmer's description of the match.
"It means something to me knowing I'm in his head now : I'm bugging him. It feels good to be that guy he's hating now," Flynn said with a grin.
Flynn closed out his season with a 42-4 record Saturday afternoon. That night he prepped Winfield's Pete Tapia for the finals and then smiled as Tapia beat Detmer 5-0 for the state championship.
Up next for Flynn is an appearance in the 16th annual Metro Classic on March 5.