LHS

boys rally past Bonner, advance to substate finals
Briggs wants Lions focused on the game - not state - Friday night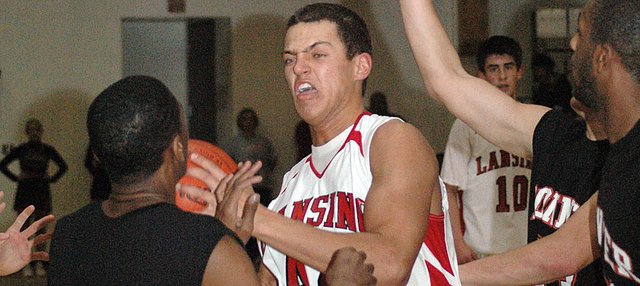 Photo Gallery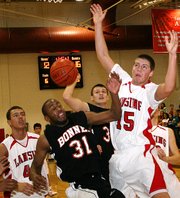 Lansing boys 51, Bonner Springs 49
The photos in this gallery are from the Class 5A substate semifinals. They were taken by Lansing High senior Griffin Davis.
Photo Gallery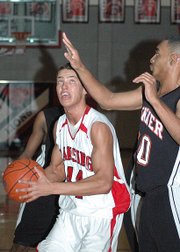 LHS boys beat Bonner Springs in substate opener
Rule No. 1 about making it to state: You do not think about state.
Rule No. 2 about making it to state: You do not think about state.
That will be LHS boys basketball coach Rod Briggs' mantra to his team between now and 7:45 p.m. Friday when Lansing takes on Seaman in the Class 5A substate finals at Turner High School.
The Lions (15-6), ranked No. 8 in the state and the second seed in the substate bracket, advanced to the finals by rallying past seventh-seed Bonner Springs, 51-49, on Wednesday night at Johnsmeyer Gymnasium.
"The thing about going to the state tournament (is) you can't be thinking about that," Briggs said. "All you've got to think about is this next game and winning the substate championship. Don't think about the next round, because kids will start concentrating beyond and get nervous and get tight."
The Lions have accumulated the second highest single-season wins total in the past 18 years. The highest total was produced by Lansing's last state team, the 2002-2003 squad coached by Don Allen that went 17-7.
Briggs doesn't want his players thinking about anything beyond Friday's game, because he said they don't need any additional causes of stress. He wants them to focus strictly on running a fluid offense and playing tough defense. Those are two things they didn't do particularly well against Bonner Springs, and it almost cost them their season.
Perhaps they were thinking a bit too much about what was at stake?
"You saw tonight we played tight," Briggs said, referring to the lack of focus at times.
Cody Rush scored six first-quarter points as Lansing raced to a 10-5 lead. Shoddy defense on the final possession of the quarter allowed Bonner Springs' Martin Birch to follow his own miss and score as time expired. That basket signaled the turning of the tide.
A put-back by Rush gave Lansing a 12-9 lead with 6:30 left in the first half, but Tyler Jock answered with a pair of free throws. Then Brien Newton buried a three-pointer from the left wing and gave Bonner Springs the lead at 14-12 with 5:36 left in the half. The Braves (6-15) didn't relinquish that lead until the Lions tied the game at 44-44 on a pair of free throws by Rush with 3:59 left in the fourth quarter. A steal and layup by Bobby Hauver with 2:50 remaining gave the Lions the lead.
During the more than 17 minutes that Bonner Springs was ahead, the Braves led by as many as eight points. L.T. Lee scored 10 points during that span and Newton had eight, including a pair of three-pointers.
Even when the Lions were down, Briggs said he expected his team to respond.
"I felt like we were starting to get it going a little bit offensively, and if we could just get some defensive stops we could probably catch up to them," Briggs said. "You could see late our defense was outstanding."
Lansing faced its largest deficit at 40-32 with two minutes left in the third quarter. That's when the Lions finally mounted their rally. First, Hauver sank a free throw. Then Stephen Didde knocked down a pair. Clayton Hall buried a three-pointer early in the fourth quarter, and then Rush scored six straight points and tied the game.
Jock sank a free throw that briefly put the Braves back on top, but Hauver tied the game at 45-45 with a free throw. Moments later, Hauver stole the ball and took it the other way for a layup.
The Lions never trailed again.
Hauver slashed to the lane and knocked down a floater on Lansing's next possession. That stretched the lead to four points, and Briggs said it was the biggest basket of the game.
"I knew we needed to score, and I knew if we could get a layup that would be great," Briggs said. "Bobby didn't have the best game of his career tonight, but he had probably the best big shot there that gave us the room to win the game."
The Lions played pesky defense on the Braves' ensuing possession and forced them to run a lot of clock before Birch drew a foul with 17 seconds left. He made his first free throw but missed the second. Jeremy Walker pulled down the offensive rebound and passed to Newton for a baseline jumper. Suddenly Lansing's lead was down to 49-48 with eight seconds left.
Curtis Beall was fouled on the ensuing inbounds pass, and he calmly knocked down a pair of free throws that extended the LHS lead to three points. Bonner Springs' last-ditch effort came on a fadeaway three-point try by Jock that bounced off the rim. Jock was fouled on the play and sank the first of his free throws. After a Lansing timeout, Jock returned to the line and missed the second, sealing the game.
Briggs was blunt in his assessment after the game when he said the Lions were lucky to win.
"To be quite honest, Bonner Springs played better than us tonight," Briggs said. "They had a better game plan. They played with a nothing-to-lose attitude, and we didn't really play with the right mindset tonight where we don't worry about the opponent, we just play hard, play aggressive defensively and that sort of thing. We just didn't do that, but we got the win."
Rush led LHS with a game-high 17 points. Didde had 14 points, Hauver had 10, Beall had seven and Hall added three. Lee led BSHS with 14 points, Newton had 12 and Jock scored 10.
Although thinking about state is something Briggs doesn't want his players to do, he said he wants them to think about giving Rush more touches. He made seven of 11 shots, and the 6-foot-7 forward has been Lansing's most consistent scorer all year.
"We need to know that's our money guy right now. He's proven it over the course of the season," Briggs said. "It's a team game, but you've got to gave a go-to guy, and he's definitely our go-to guy in the post."
Seaman advanced to the substate finals by beating Schlagle, 72-56, on Wednesday. Seaman won a meeting against Lansing, 56-45, during the second game of the season this year, but the game was close the whole way and LHS led early in the fourth quarter.
The winner of Friday's game advances to state, which will take place next week at the Kansas Expocentre in Topeka.