Lions catch spirit of '74
33-year streak of substate exits could end this weekend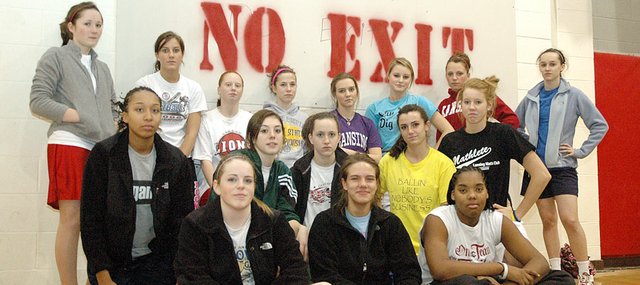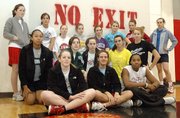 A lonely metal banner hangs on the wall of Johnsmeyer Gymnasium indicating the limited postseason tradition of Lansing High girls basketball.
The space reserved for listing regional or substate championships is bare. It's not exactly accurate - the 1973-1974 squad qualified for state - but no Lansing team has been back since.
Thirty-three seasons have come and gone, and all of them have ended short of the state tournament.
The Lions want this year to be different. They don't want substate to be their exit point for the 34th straight year. They want it to be their gateway to the Class 5A state tournament.
They want to give the banner in the gym a purpose.
"I think we've got that picture in our mind of that little silver board up in the gym that we want to be that first (team) to put that number up there," senior Katie Nietzke said. "That's been our goal the whole year. We've said that from day one, I remember."
Their chances look good on paper. They earned the No. 1 seed with a 14-6 record and will play host to No. 8 Turner (1-19) at 7 p.m. Thursday. LHS beat Turner 62-30 on Jan. 11.
If Lansing wins its opener, it will meet the winner of Highland Park (7-13) and Seaman (6-14) Saturday in the substate finals at Turner High School. A win there, and the Lions will be state-bound.
THE FIRST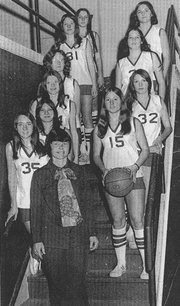 Girls basketball was a relatively new activity at LHS in early 1974 when coach Sharon McNitt's Lansing girls beat Gardner in the Regional Class 3A Tournament finals. A dominant season that included a 9-2 record and a share of the Pioneer League championship would end at state.
The Lions traveled to Buhler High School for the tournament, but their stay was short. Haven handed them a 50-24 loss. Buhler won the state title that season.
"We could really tell that the other teams there had had a basketball team longer than we had," said Kathy Fleenor Edmonds, a junior forward on the state team. "The lack of experience kind of showed with us having a new program, and western Kansas had had basketball for a long time."
A spirited crowd followed the Lions to state, and Edmonds said that was special.
Edmonds said the Lions' strength was athleticism - a trait shared with the current Lansing team.
"The girls on the Lansing team were athletic, and they learned pretty fast," she said. "We were all really good at track so we had good endurance, so a lot of times we just wore teams out."
A NEAR-MISS
The state trip wasn't expected to be a one-time deal. The following year, Lansing had another strong team, but it lost to Atchison by three points in overtime of the regional finals. Edmonds, LHS volleyball coach Julie Slater and LHS assistant basketball coach Carrie Ritchey were among the players on that team.
In the decades since then, a handful of Lansing teams have made it to the substate finals, but all exited the playoffs short of a state berth. Among the best teams were the 1996-1997 squad led by future Oklahoma Sooner Caton Hill that went 17-5 and the 2005-2006 team that went 15-7, but both lost in substate.
Edmonds has remained an LHS fan throughout the years. She attended numerous games while her children were in school, and even though the kids now are off to college, she still makes it to games from time to time. She said she hopes to see this year's team join hers as state qualifiers, and she said she'll try to attend the state tournament if the Lions make it.
"Oh definitely, if there's nothing keeping me away," she said. "I've gone to almost all the state volleyball tournaments, and I think state is really a big honor, so I always try to support the team if I can if they're from Lansing."
ANOTHER CHANCE
After a 3-3 start to the season, the Lions have won 11 of their last 14 games, including the last three. They achieved most of those wins despite shooting a poor percentage from the field. Defense was their staple.
The offense is coming around now, and the Lions have averaged 63 points per game during their last three contests. That accounts for three of their five highest scoring games of the season.
The strong finish to the regular season earned LHS a favorable draw in the substate bracket. It beat its first-round opponent by 32 points earlier in the season. The two teams on the other side of the bracket combine for fewer wins than Lansing has this year.
"We've talked about playing one game at a time and putting yourself in position for substate, and we've done that part like we wanted to," fourth-year LHS coach Keith Andrews said.
Now, Andrews said, the Lions need to seize the opportunity that is in front of them. State is within grasp. Substate doesn't have to be a stopping point.
"We're going to talk about opportunities and making the most out of those opportunities," Andrews said. "We'll talk about how Amy (Briggs) as a sophomore or Alexis (Ellis) as a junior, this might be your best opportunity, and you only get so many chances at it. For Katie and Morgan (Chiles) and Amanda (Darrow) and Chrissy (Cordes) and Retha (Cioppa), this is their last chance. There comes a time when they take the uniform away from you and you don't get to play anymore, so you've got to take advantage of those opportunities and try to stretch it out as long as possible."