Soldiers use computer games to simulate future Army tactics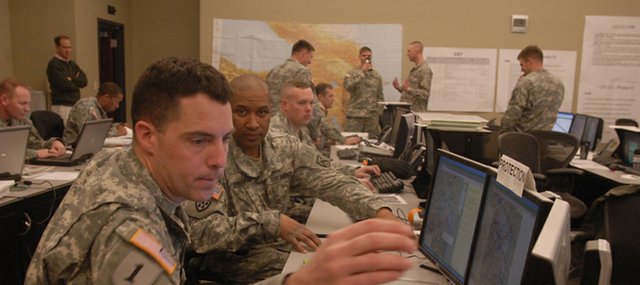 Fort Leavenworth — Army Maj. Jake Peterson pondered his next steps after his armored battalion led the capture of a communications center and road network.
That victory came at a price. The battalion, one of two under Peterson's command, took a beating.
"They threw everything they had at it," Peterson said of the enemy troops trying to protect what maps on his computer screen labeled Objective Bravo. "That unit was rendered combat ineffective."
The year is 2013. The country of Azerbaijan has been invaded by neighboring Ahuristan, a breakaway province from Iran. Azerbaijan asked the U.S. and its coalition allies, Great Britain and Turkey, for help in repelling the invaders.
In reality, Ahuristan doesn't exist, and the war scenario was played recently over five days at Fort Leavenworth's Command and General Staff College and Combined Arms Center. Participants used an elaborate computer system called Command Post of the Future and PM Battle Command.
More than 60 American and foreign military officers studying at the fort took part in the war game called a digital warfighter exercise.
"It allows us to analyze and think better about where we are and where we need to go," said Maj. Gil Cardona. "Critical thinking is the biggest thing we get out of this."
War games
Cardona and many of the other players have served in Iraq or Afghanistan, where the same digital system is used in real combat. But an exercise such as this allows the military to learn from mistakes without costing lives.
The exercise consists of several layers of command with different components that include not only front line units but also intelligence and air protection.
Groups of participants sit in different rooms at desks covered with computer screens. Orders are passed down the chain of command as battle information is sent back up. Messages are delivered by e-mail or relayed by telephone. Icons representing military units are moved on computer screens that show the terrain they are moving through. Coalition icons are blue while the enemy's are red. The computer determines the outcome of all the moves and decisions the combatants make.
Decisions challenging
Some officers found themselves performing duties that in real life would be assigned to higher-ranking officers. Maj. David Zinn performed the role of a chief of staff, a job that normally would be handled by a colonel with 25 years of experience. His job was to focus on what the forces should do 72 to 96 hours in the future.
"It's a challenge because I've never learned this," Zinn said during a quick break. "My life is a series of meetings. I hear information. I make decisions and assign tasks, and I go to the next meeting."
Not all of the participants are in the Army. Jason Koler is an Air Force major who found himself in charge of an Army artillery unit.
"It's a good learning experience for me," he said. "Being an Air Force guy, I don't get the opportunity to plan ground combat. It's a chance for sister service folks to see what the Army goes through on a day-to-day basis."
The exercise also required some to play the role of the enemy. Army Maj. James Lynn was one of the bad guys.
"It's actually kind of interesting," Lynn said. "You are not only playing with the mechanized infantry and artillery, but you are also playing the insurgent forces that are usually disrupting the lines of communications and generally causing havoc."
The Azerbaijan scenario included two aspects of war. After fighting the conventional, tank-on-tank battles and driving off enemy infantry, coalition forces must contend with stabilizing the country and its government. They have to deal with riots and insurgencies. It is similar to what is going on in Iraq.
"We're learning how to incorporate the stability operations into the combat operations concurrently," said Peterson, an Army major.
Analyzing and experimenting
During months of planning leading up to the exercise, the Army selected experiments to try. Outcomes could affect future training and warfighting doctrine.
Foreign officers participating in the exercise had a chance to learn how to operate with the American military, said Trayan Georgien, a captain in the Bulgarian Army.
"It's not so different from my Army, but it's not my country and it's not my language," Georgien said. "It's important for me to learn how to work with these guys."
An Army contingent from the United Kingdom took part in the exercise. American and U.K. armies have worked together during many conflicts, but it is important "not to rest on our laurels," U.K. Col. Chris Collett said.
The U.S. and U.K. are planning computerized war exercises that will have them working together while each stays on its side of the Atlantic. A major exercise is planned for 2010, Collett said.
"That's tremendously exciting because it means we can train together more easily in the future without having to physically bring people together, which is extremely time consuming and expensive," he said.