Three Lions nab medals at state tourney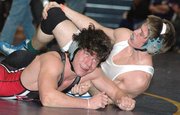 HUTCHINSON — A goofy grin broke out on Grant Hinckley's face moments after the final whistle blew on his last match Saturday at the Class 5A state wrestling tournament.
Hinckley's 4-0 victory over Gardner-Edgerton's Greg Curtis gave the LHS junior redemption for a loss to Curtis earlier in the season, and it also landed Hinckley a fifth-place medal at 160 pounds.
"My dad prepped me for an hour to wrestle that dude, and it worked," he said with a smile.
Fifth was one step below where he placed in 2007, but Hinckley said he felt "accomplished" in his performance, particularly because his bracket was loaded with so many tough wrestlers this year.
"We've all beaten each other," he said. "I wonder who would've gotten first tomorrow."
Hinckley was joined on the medal stand by teammates Nick Flynn, a senior, who finished third at 152 pounds, and freshman Tyler Baughman, the sixth-place medalist at 145 pounds.
For Flynn, the trip to the medal podium was his third in four trips to state. He placed sixth as a freshman and second as a junior.
Meanwhile, Baughman earned a place in LHS wrestling history with his performance at state.
"He's only the fourth freshman we've ever had medal at the state tournament, and two of those ended up being state champs," LHS coach Ron Averill said.
Two other Lions - freshman 130-pounder Dillon Scanlon and junior 215-pounder Tyler Strouhal - finished one victory shy of the medal rounds.
Five other Lions also competed at state. They were freshmen Brett Brown (103), Garrett Hinckley (119), Spencer Blew (125), Tyler Terron (140) and Nathan Wessel (171).
WOOD MAKES IMPACT
A back injury limited LHS senior Dennis Wood to wrestling just two matches this season and denied him the opportunity to make a return trip to the state finals. He didn't let that keep him from making an impact at state, however.
Wood barked encouragement to the seven freshman Lions during their matches, and afterward pulled them aside for extra instruction.
"From the time we found out that he had his back injury, we decided that possibly his legacy would live through what he did this year as a mentor instead of as a competitor," Averill said. "I think he's done a pretty good job of that."