After slow start,
LHS

girls roll into substate finals
Griffen ignites Lions to 51-33 victory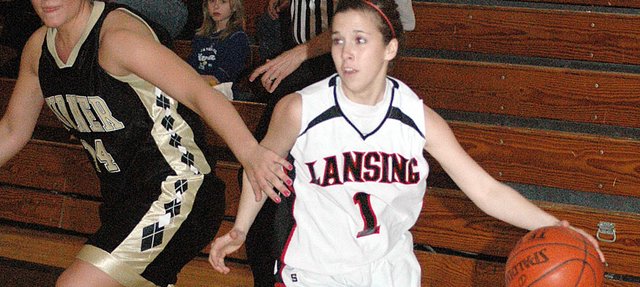 Photo Gallery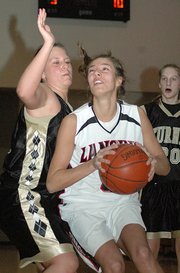 LHS girls down Turner in substate opener
The Lansing High girls got one thing right during their Class 5A substate basketball semifinal game against Turner: They won.
Little else went right for the No. 1-seed Lions throughout much of their 51-33 victory Thursday night at Johnsmeyer Gymnasium.
Fortunately for the Lions, winning is all that matters in the do-or-die substate tournament.
"We talked about it before whether it's 31-30 or 71-30, we need to get the win, so mission accomplished there," fourth-year LHS coach Keith Andrews said.
Lansing won a Jan. 11 contest with Turner, 62-30, so the rematch wasn't expected to be close. Eighth-seed Turner had other plans, however.
Turner (1-20) had a new addition to the roster in sophomore Kayla Lupardes, and she was an instant difference-maker. Lupardes scored nine first-quarter points. Meanwhile, Lansing missed all 14 of its shots in the quarter and made just four free throws as the Bears built a 10-4 lead by the end of the first eight minutes.
"We weren't awake yet," LHS sophomore Katelyn Griffen said. "We all wanted it, but we just needed to get our heads in it a little more."
The Lions went from groggy to alert midway through the second quarter, and Griffen had everything to do with it.
A runner by senior Katie Nietzke with 6:23 left in the second quarter was Lansing's first made field goal of the game, and Griffen followed suit moments later by burying three straight shots in an individual 7-0 run that took the Lions from a 16-14 deficit to a 21-16 advantage. They never trailed again.
"The seniors have been great leadership, but I just felt like if no one was going to pick it up I needed to step up," she said.
Andrews took it a step further, calling them "huge buckets by Katelyn."
A three-pointer by junior Brittney Lang at the buzzer gave LHS a 24-17 halftime lead.
Lansing cranked up its defensive intensity in the second half, and a flurry of forced turnovers led to baskets in an 8-0 run at the start of the third quarter. The Lions continued to expand their lead as junior Alexis Ellis warmed up inside and senior Katie Nietzke headed up from outside with back-to-back three-pointers.
The Lions put the game away at the free throw line down the stretch as sophomore Amy Briggs and senior Retha Cioppa knocked down shots from the stripe.
Griffen and Ellis led LHS with 10 points apiece; Lang had nine; Nietzke had eight; Briggs scored seven; Amanda Darrow, Christine Cordes and Morgan Chiles had two points apiece and Cioppa added one. Ellis grabbed a team-high 14 rebounds, and Lang and Darrow had seven apiece. Briggs had five steals and Nietzke had four.
Lupardes led Turner with a game-high 19 points.
Lansing forced 31 turnovers and committed just 16, most of them in the first half. The Lions also held a 51-45 rebounding advantage.
Lansing (15-6) will need to resemble a team befitting of its No. 6 ranking in the state if it hopes to win the substate championship at 5 p.m. Saturday at Turner High School. LHS will play Topeka Seaman, which won its semifinal game against Highland Park, 52-39.
Seaman is just 7-14 this season, but it has won six of its last 10 games. Three of those were against Highland Park. The Vikings are trying to reach the state tournament for the third straight year.
Lansing is seeking its second state tournament berth in program history and first since 1974. The Lions came close two years ago, but let a big early lead slip away. Andrews said this year's team is more prepared to finish the job.
"I don't know if everybody was ready to take that step (in 2006)," he said. "I know the seniors were : they wanted it : but the young kids were a little glossy-eyed, and I don't think they were really ready. I think this group is a little more mature as a whole, and I think they'll be ready to take that step."