Tips offered to help resolutions stick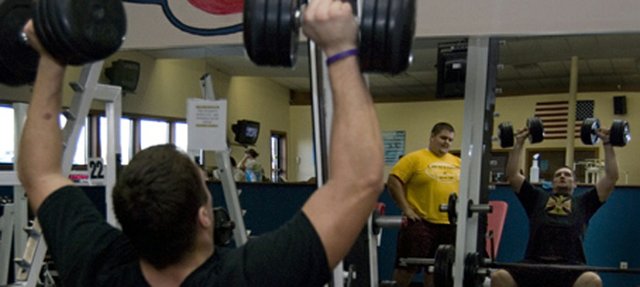 At the beginning of a new year, it's not uncommon for people to make resolutions on changes they'd like to make.
But unfortunately, there are many pitfalls and roadblocks along the way that can keep people from reaching their yearly goals.
"We are an instant society, so we want to see stuff happen fast," said Denise Sullivan, family and consumer sciences agent for the Leavenworth County Extensions Office. "We can set our goals too high and when we don't meet them too fast that's when discouragement sets in."
According to USA.gov, some of the most popular New Year's resolutions are to lose weight and get fit, save money and pay off debt, and to quit smoking. While it may not be possible to slim down to your ideal weight and become super rich in a matter of a year, there are several things people can do to get started on their goals.
Sullivan said something as easy as cutting out 100 calories a day in your diet or by burning off 100 calories a day through exercise could result in losing 10 pounds in a year.
Sullivan also believes that the trick to healthier living involves eating more natural foods, not just consuming fewer calories.
"Less processed food is one of my mantras," Sullivan said. "The closer you can eat to the way nature made it, the better.
She gave the example of eating an orange or drinking freshly squeezed orange juice has more dietary fiber than consuming store bought orange juice.
Sullivan also said people should eat a lot of whole grains over refined grains and not to forget the importance of drinking plenty of water.
"Coffee and tea don't count," she said. "Caffeine is a diuretic and inhibits your hydration."
Mark Padfield, owner of Unlimited Fitness, has some advice for people who want to live a more active life in 2008 to lose some weight. At the beginning of each year, he sees attendance at his gym increase but slowly dwindle in a few months.
"A lot of people are gangbusters for a week or two and then they get sore and frustrated," Padfield said. "They need to ease into it. If you're used to sitting on the couch, you probably can't jump on an elliptical machine for 45 minutes."
He said getting frustrated with unrealistic results causes people to become discouraged and give up on their weight-loss goals.
"One of the biggest things is people need to remember they didn't put 30 pounds in a month, so they shouldn't expect to take 30 pounds off in a month," Padfield said.
He suggests that a safe amount of weight to lose is about two or three pounds a week.
There is a new software program at Unlimited Fitness that can tailor a specific exercise regimen for someone's individual weight loss and exercise goals. Using the software is free for the first month and $10 dollars after that.
Padfield also said people starting to exercise may slip up, but they need to continue.
"Everyone is going to miss a day or two," he said. "It's easy to say, 'I just don't have time anymore,' but you just got to really commit to it."
One of the hardest resolutions to commit to is to quit smoking.
The Kansas Department of Health has developed a program to help smokers kick the addiction.
Ginger Parker, media and policy coordinator for the Kansas Tobacco Use Prevention Program, suggests first calling the Kansas Tobacco quit line (1-866-KAN-STOP) to get free counseling sessions from professionals trained to help people stop smoking. She said most people get around four counseling sessions.
"Know that most tobacco users practice quitting before they are successful," Parker said. "Keep in mind slips happen. People need to forgive themselves and not give up. They need to think about what triggered the slip and learn how to handle it."
Along with the free counseling sessions, people wanting to quit smoking should avoid places where people smoke and to tell family and friends what they are trying to do so they can give them their support.
She also said in some situations medication could be used to help people quit.
Finally Richard Smith, certified public accountant for Richard Smith Inc., has some suggestions to help improve people's financial situations for next year.
Making a plan to pay off credit cards should be a person's priority he said.
"A good thing is to sit down and have a family meeting to discuss some of the major expenses they can anticipate," Smith said.
To cut down on debt, Smith suggests gradually cutting back on unnecessary expenditures to save money and to have more money to pay off debts. He said that also saving money will help for those major unplanned expenses.