2007
A look back at events in the headlines in Basehor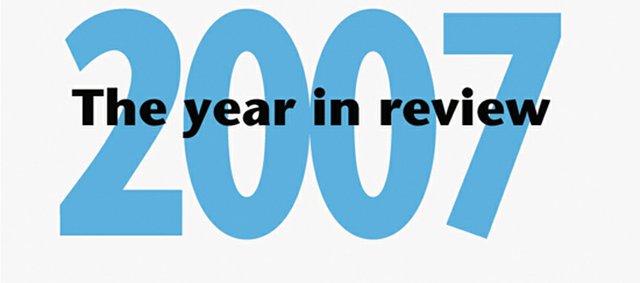 Basehor residents showed quite a bit of interest in the City Council and Basehor-Linwood School Board elections with seven candidates running for three open positions on the council and seven candidates vying for four seats on the school board. A primary election on Feb. 27 narrowed the lot of city council hopefuls to six and eliminated one of three candidates seeking the No. 3 spot on the school board. Voter turnout was light for both the primary and the general election April 3, but residents chose incumbent Iris Dysart and newcomers Terry Hill and Jim Washington to serve on the council and incumbents Dayna Miller for position No. 2 and Doug Bittel for position No. 7 and newcomers Jeane Redmond for position No. 1 and Eric Dove for position No. 3 on the school board.
Wastewater treatment
Discussions about expanding Basehor's wastewater treatment facility continued throughout 2007. In January, council members debated whether to expand the existing plant in gradual phases as well as begin planning for a second facility or just expand the current plant.
After McAfee, Henderson and Strict Engineering presented the final sewer master plan, the council sided with the firm's recommendation to expand the existing plant to a capacity of 2.1 million gallons.
City Administrator Carl Slaugh and council members reviewed and evaluated the work of nine different engineering firms interested in designing the project and eventually chose Burns & McDonnell Engineering Company, Inc.
The city has budgeted about $4 million for the plant expansion, which is expected to be complete within two years. Sewer rates and connection fees are set to be raised annually to help pay for the project.
New library
The new Basehor Community Library continued to take shape throughout the year despite weather setbacks early on in the project.
Construction began rolling in the spring and the shell of the building was up by July. Lighting, windows, doors and partitions were completed by November.
The 13,600-square-foot library at 158th Street and Garden Parkway was made possible by a land donation from Ray and Ann Breuer as well as a $2.99 million bond passed by the community in February 2006. General contractor Roger Feyerherm expects the building itself to be finished by this month and library director Carla Kaiser said they hope to be open to the public in the new building by March 2008.
New business
Several new businesses decided to call Basehor home in 2007, especially on Pinehurst Drive. The 10,500-square-foot Pinehurst retail building was constructed in late 2006 and began filling up shortly after that. Bask Tanning, Front Row Video and Subway were all open and serving customers by April 2007. Another identical building is planned for the empty lot next door.
"We do have some good leads on leases for the next building and we will be signing leases before the second building is constructed," Debbie Breuer leasing manager said in May. "We want some commitment before we get going."
School changes
The Basehor-Linwood school district saw a few changes this year in administration as well as for the future of the district.
David Howard from the Chase-Raymond school district just east of Great Bend was hired to serve as the district's new assistant superintendent. Former assistant superintendent Don Swartz retired at the end of the 2006-2007 school year. Doug Hay from the Fort Leavenworth school district was chosen to replace former Basehor-Linwood High School assistant principal Sherry Reeves, who was moved up to serve as the school's principal. Former BLHS principal Steve Blankenship accepted a position in the Pratt school district. Cindy Hiebert, who has been with the district for four years, was also named the new principal of Linwood Elementary School. Former LES principal Vickie McEnroe retired at the end of the 2006-2007 school year.
A $39.9 million bond issue was also passed by voters in the district in October. A narrow victory prompted a recount paid for by a Basehor voter, but the results remained the same.
The bond will cover a new centralized sixth grade through eighth grade middle school, a new kindergarten through second grade elementary school, classroom additions and renovations to Glenwood Ridge Elementary School, renovations to LES and a new soccer field. School officials hope the improvements will address the need for space in the growing district. All are expected to be complete by 2010.
Grocery breaks ground
Ed McIntosh and John Bell of Benchmark Management and third grocery store owner Kevin Barclay hosted a groundbreaking ceremony in mid-November just east of the 155th Street and Wolf Creek Parkway intersection. McIntosh said they ran into many obstacles along the way that delayed their plans including concerns about which refrigeration system to use and where to place it within the store as well as access concerns stemming from the U.S. 24-40 Corridor Study. A tentative completion date has been set for late spring or early summer 2008.
Community organizations
A couple of community organizations saw some facility changes in 2007. In February, the Wiley family donated a building at 2812 N. 155th St., to The Basehor Historical Society to use as its temporary home until funds for its ambitious museum planned for 158th Street and Parallel Road can be obtained.
Members have been slowly but surely renovating the inside to make it suitable for the public to view historical documents and items from Basehor's past.
Bad luck besieged the Basehor Veterans of Foreign Wars Post 11499 when it's building at 2805 N. 155th St., was condemned by city officials in June. However, members remained optimistic and found a new home just across the street from the old building at 2806 N. 155th St., within a few weeks. A few changes and a fresh coat of paint later, the new VFW hosted an open house for the public on Sept. 1 and renamed the post the Bob Wiley Memorial VFW Post 11499.
Dairy Days
The 2nd Annual Basehor Dairy Days Festival in June was a hit. The festival, meant to honor Basehor's rich dairy history, offered musical performers, local dancers, demonstrations by area firefighters and law enforcement, booths with arts, crafts and food for sale, circus clowns and a musical depicting the history of Basehor performed by local residents.