Avoiding cold-weather car woes
Experts advise automobile owners to regularly maintain their vehicles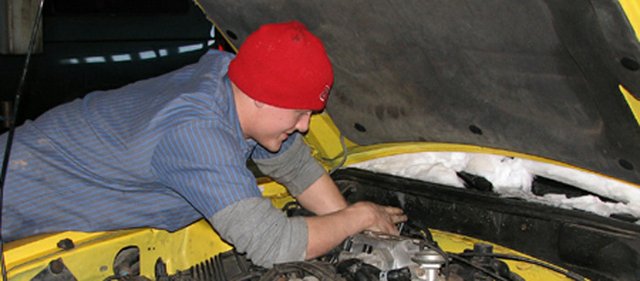 Vehicle troubles are a hassle, but they can be an even bigger problem - and hazard - now that temperatures have dipped below freezing.
But Bob Kolman, owner of Sutton-Kolman Automotive in Basehor and Tonganoxie, said regular vehicle maintenance is the best way to avoid a breakdown this winter.
"A little preventative maintenance is a good thing," he said. "Cold weather will intensify a problem greatly. Cars become troublesome then because they're not designed to take that kind of cold day in and day out."
One of the first things to check is the antifreeze, he said. Frank Brannon, owner of B & B Garage in Basehor, agreed and said that oftentimes car owners put excess water into the cooling system during the hot summer months and forget about it when the weather starts to cool down, causing it to freeze and lock up the engine. Brannon said that if the cooling system has not been serviced within the past two years, it is definitely time to get it checked out.
Other things to pay close attention to are the brakes and tires, especially with snow and ice in the forecast. A tire gage that measures the depth of tire tread can be purchased at any automotive store for a few dollars, Brannon said.
"Make sure you have sufficient tread on all your tires," he said. "You want at least four-thirty-seconds (of an inch) of tread on all tires minimum. If they're below that they aren't going to pull worth a darn on snow and ice."
Drivers will be happier with plenty of windshield washer fluid and a good set of wiper blades this winter when moisture and salt from the roadway is kicked up onto windshields. Brannon suggests blades be replaced twice a year - once in the spring and once in the winter.
"They're rarely doing their best performance if you leave them on more than six months," he said.
Giving cars a chance to warm up a little bit before driving is also something Kolman suggests, even when there is not snow or ice. This allows the oil to heat up and lubricate the engine properly.
"On a 30-degree morning, it shouldn't take more than four or five minutes to get a car up to a pretty good operating temperature."
However, Kolman said mechanical issues stem from a variety of different problems, so drivers should always be prepared. Keeping the gasoline tank at least half full at all times during the winter may prove to be a lifesaver in an emergency situation. If drivers find themselves stranded on the side of the road because of an accident or mechanical problem, they will be able to leave the car running to stay warm.
"It's more of a peace of mind in case something goes wrong," Kolman said.
It is also a good idea to keep a warm coat or blankets in the car at all times.
"Always be prepared in case something happens," Brannon said. "At least have some heavy winter clothes in there to stay warm until help arrives."
There are still quite a few cold days left in the season, and if car owners have not already prepared their vehicles for the winter months, it's a good idea to schedule an appointment for a thorough inspection as soon as possible, Kolman said. A mechanic will be able to pinpoint any issues that may cause problems in the future.
"The better you treat your car upfront, the better it's going to treat you down the road," Kolman said.