City, county crews work overtime staying ahead of winter storms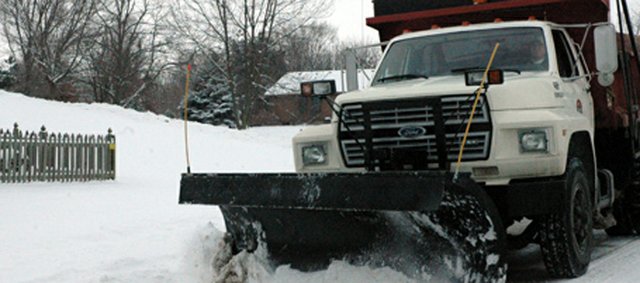 Falling snow and trucks with their big plows roaming the streets have been all too familiar sights for Lansing residents the past month.
With what seems to be more winter storms than usual, crews with the city of Lansing and Leavenworth County have been working overtime to make sure streets are safe for drivers.
Andy Bailey, a meteorologist with the National Weather Service office in Kansas City and Pleasant Hill, Mo., said while it's not unheard of, it is unusual to get one winter storm right after another, as the region recently experienced.
He said sometimes areas get into a pattern and storms keep following the same route, which seems to be the case recently with eastern Kansas. But he said good news was on the way because he had not seen any indication that another storm would be coming through anytime soon.
This is good news for the public works crews who are responsible for clearing snow and laying down salt and sand on the streets.
John Young, Lansing Public Works director, said while the back-to-back storms have more rapidly depleted the city's supply of salt, the city crews have been able to stay prepared.
"Sometimes that can be difficult because suppliers get very busy," he said.
So far this season, the city has used 300 tons of salt. The initial stock comes in about late October or early November so, Young said, crews will be ready for the first hit. After that, it's common to have to contact their contracted supplier to deliver more as storms continue to roll in. Young said the department has called for a salt replenishment a couple times so far and currently has a call out waiting for more as it becomes available.
Leavenworth County Public Works director Mike Spickelmier said his department's salt supply is hovering at about 25 percent capacity, which he expects will hold out for two more storms. He said he's definitely noticed an increase in storms hitting the area so early in the season. He's sent crews out about 15 times to push snow, which is about 75 percent of the total times it's usually done in a year.
At the beginning of the season the county stocks about 1,500 tons of salt in a dome. On Thursday, Dec. 27, a company delivered two more loads to replenish that stock, but Spickelmier said there was still another standing order out for more.
"We're in pretty good shape right now, though," he said.
While it's normal to have to replenish the stock about twice a season and then once over the summer, Spickelmier said he knows that he can always rely on the city of Lansing for help if something happens to the county's stockpile and vice versa.
He said both sets of crews have defined limits of responsibility but that both are willing to share salt if necessary because ensuring safety on the roads is their number one priority.