Praying for peace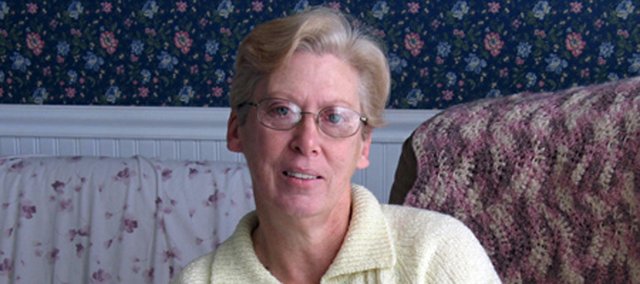 After serving on active duty with her husband in Germany, Mary Jackson retired from the U.S. Army in 1990 and settled in Lansing.
She took on the role of housewife for the first time in her life before using the GI Bill to earn a master's degree in theology.
Jackson then became chaplain at the Hospice of Leavenworth where she gave "spiritual care for dying patients and their families" and later served as director for Catholic Community Services in Leavenworth.
Many residents may recognize her, though, as the "crazy" lady who held a sign reading "Pray for Peace" outside the Veterans Affairs campus for six months leading up to the decision to go to war in Iraq.
"The war changed everything for me," said Jackson, a staunch anti-war advocate. "I had never made myself look like an idiot before standing at the side of the road with a sign until the prospect of a totally wrong war came up, and I just had to do something what little I could do."
Jackson wrote letters to politicians and newspapers expressing her views. She said she did a lot of research and thoroughly read government leaders' transcripts of speeches rather than "listening to the president or vice president."
"Our Army had never ever in our history until Iraq invaded another country without provocation," Jackson said as one reason for her opposition to the war. "We train always to be a defending force."
Jackson said she still cries when she sees the faces of American soldiers and Iraqi citizens on the nightly news the victims of what she calls a "senseless" war.
Prior to the 2004 presidential election, Jackson and her husband worked on democratic candidate John Kerry's campaign seven days a week for three months in Colorado.
It was in Colorado that she decided to leave the Catholic Church after bishops there encouraged her not to support "the wrong candidate."
"I still consider myself Catholic," Jackson said, "And I think God and I are on good terms."
"The war, I'm still bitter about. The church, I'm still bitter about. But I still love the Army," she added. " : They do what they're ordered to do, and they do it as best as humanly possible. The Army is wonderful. They're doing what they were sworn to do, and they're doing it without the right mixture (of troops) and without the right equipment : That's why I didn't protest out by the fort."
Jackson now spends time volunteering at Anthony Elementary School, where she helps children learn to read.
NAME: Mary Jackson
ADDRESS: 106 Willow Point Rd.
OCCUPATION: Retired Army
FAMILY: Wayne, husband; Hope, daughter; Brian, son
HOW LONG HAVE YOU LIVED IN LANSING, AND WHAT BROUGHT YOU HERE? "17 years : the Army."
WHAT DO YOU LIKE MOST ABOUT LANSING? "It's so friendly. We've lived so many places where you don't know your neighbors."
WHAT DO YOU DO FOR FUN? "I garden. I read. I volunteer about five days a week."
WHAT MIGHT SURPRISE PEOPLE ABOUT YOU? "I'm a expert shot. When I was in the Army, I always shot expert : Our commander would use me to embarrass the infantry, artillery and MP guys."
WHAT IS THE BEST ADVICE YOU'VE EVER RECEIVED? "Always be the first to acknowledge when you make a mistake."
WHAT CLUBS OR ORGANIZATIONS DO YOU BELONG TO? Board of directors for the Alliance Against Family Violence