State finals in his future?
Cross country improved wrestler's endurance, and now he has the look of a title contender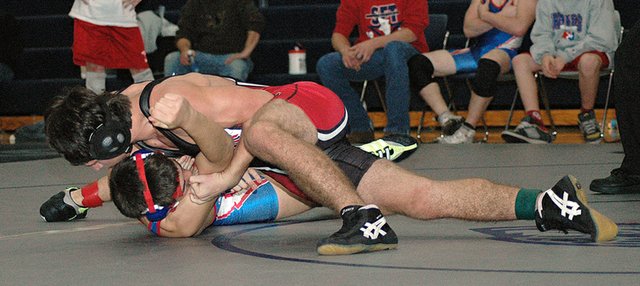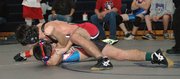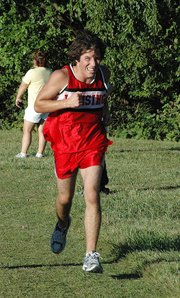 Grant Hinckley didn't run cross country this fall because he expected to be good at it.
He didn't envision himself as a state contender, or even as a contender for medalist honors in the Kaw Valley League.
No, the days of logging heavy mileage under the hot summer sun weren't about running at all. They were about wrestling in the winter.
A lack of endurance held Hinckley back for much of his sophomore season before he made a dramatic run to a fourth-place medal at the Class 5A state tournament. Now with a season of cross country under his belt, the Lansing High junior has his sights set on winning a state championship.
"(Leavenworth Spartans) coach (Shawn) Budke and my dad said when they saw me wrestle they saw my feet move," Hinckley said with a grin. "I never did that last year.
"I feel fast. I feel good. Oh, I feel like I can take state this year. Oh my God : you have no idea."
GASPING AND GRASPING
The sight was familiar almost every time Hinckley stepped onto the mat as a sophomore.
Unless he collected a quick pin, he was in for a long, exhausting battle. That fatigue was always evident on Hinckley's face and in his demeanor. He gasped for air. His shoulders slumped. He'd tangle up with an opponent and hang on for dear life.
Adding to his troubles, Hinckley struggled to wrestle from the bottom position, so if he wasn't going to get a pin then he needed to pile up points with takedowns.
"He couldn't control," LHS coach Ron Averill said. "We'd cut 'em and take 'em down all day long, but we couldn't control."
The strategy of takedown and release gave Hinckley a better chance to win matches, but it also guaranteed that most of his matches would be longer and more draining. He fought through it, though, and used two come-from-behind victories to earn a spot in the consolation finals at state before losing by pin and finishing fourth at 160 pounds.
"Fourth was a surprise to everybody involved last year," Averill said. "That was just a case where he peaked at the right time, and we figured out his game plan at the right time."
TIME TO RUN
Fourth place may have been a surprise, but Hinckley wasn't satisfied with it. He turned his focus to becoming a state champion, and he knew he needed to make a serious change to make that dream a reality.
He needed to be conditioned better.
Cross country provided the cure. He ran a season-best five-kilometer time of 18:51 at the Girard Invitational, but his greatest accomplishment was his improved endurance.
Hinckley said he has noticed the difference from the first day of wrestling practice this winter.
"Cross country just let me breathe," he said. "I couldn't breathe last year at all. After every time we'd go out of bounds, we'd come back and you could just see my face dropping."
Averill coaches the distance runners on the Lansing Middle School track team, so he understands the benefits that cross country can have for wrestlers. He said Hinckley's conditioning is much better this season, but he said Hinckley's overall toughness also has improved.
"Being a distance runner, you have to be mentally tough," Averill said. "You've got to learn to bust through that wall and just keep going. When you body says 'I can't,' you say, 'No, I can.'
"I think two things have worked in unison with (Hinckley) - his confidence level as a competitor and his confidence level in the conditioning area - because I think a lot of times when his body said 'I can't,' he thought, 'OK, I won't.' But through cross country he got to the point where he's like, 'No, we're going to finish this.'"
TITLE IN SIGHT
Finishing has a greater meaning for Hinckley this season. No longer is his goal just to make it to state. He wants to be a champion.
A year after Hinckley was the surprise of the state tournament, Averill said a state push wouldn't catch anybody off-guard.
Cross country helped Hinckley keep his weight down, so he's competing at 160 pounds again this season rather than jumping to 171 like most people expected he would.
He's also smarter, faster, tougher and better conditioned than ever before.
"We're just real excited about where he's been and where he's going," Averill said. "I was thinking of where guys should be at the end of the season, and it wouldn't surprise me to see him in the finals this year. As long as we can keep him healthy, state finals isn't out of the question for him."
Hinckley currently is ranked No. 3 in the state in his weight class behind senior Tyler Rosenhammer of Wichita Bishop Carroll and junior Jordan Brown of Pittsburg. Hinckley likely will face Brown head-to-head on Jan. 12 at the Bobcat Classic.