Lansing boys team defeats Mill Valley
Team wins first game back since winter break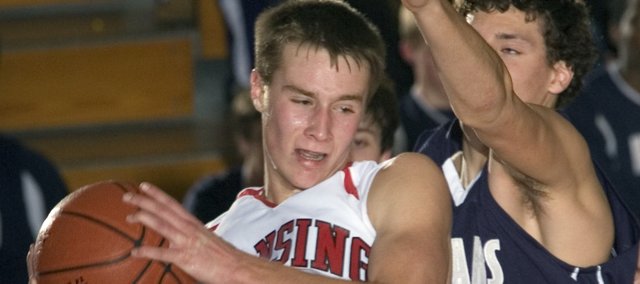 Photo Gallery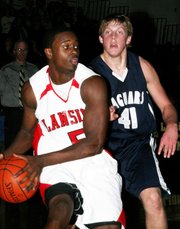 Lansing boys 60, Mill Valley 40
The photos in this gallery were taken by Lansing High senior Griffin Davis.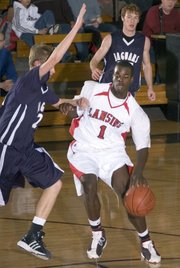 Lansing boys basketball coach Rod Briggs likes the way his team kicked off the post-Christmas break portion of the season Friday.
The Lions defeated Mill Valley 60-40 in a game that went somewhat to script.
"I tell our guys that 'I like to score 60 and hold the other team in the 40s,'" he said. "That is what we want, but it doesn't always work out that way. Today it did."
Lansing outscored Mill Valley, 17-6, in the third quarter, which proved to be the difference in the game after having a 30-20 lead at intermission. The Lions started the third quarter on a 10-2 run with field goals from five different players.
Lansing led 47-26 entering the fourth quarter of play and won the basketball game.
The Lions had two players score in double figures. Kevin Johnson finished with 13 points and Stephen Didde scored 10 points.
The Lions other scorers in the game were Cody Rush, 8; Chris Hill, 6; Bobby Hauver, 6; Ryan Delich, 2; Richie O'Donnell, 2.
Briggs also liked the way his team played defense.
Mill Valley's Caleb Smith scored just three points in the game.
"Caleb Smith is one of the better players in the league and we wanted to shut him down," he said. "We did tonight. That will probably not happen the next time we play them."
The Jaguars averaged 10 points a quarter.
"We get all the shots we want," coach Justin Bogart said.
Unfortunately, the ball keeps rolling around the cylinder and then falls out, he said.
Max Carroll led the Jaguars with 12 points and was the team's only player to point in double figures. The team's other scorers were Kellen Kinnamon, 9; Tanner Rainbolt, 6; Tanner Reinhoel, 2; Smith, 3; Derrick Miles, four; Shawn Stene, 1; Tyler Gude, 3.
Briggs also is pleased with the team's victory, because it proves that the difficult practices over break were worthwhile.
Since, Dec. 28, the Lions have practiced every day. Some days they had two-a-day practices. Players really didn't have time to do much over break other than play basketball.
"The hard work and sacrifice that these kids put in the gymnasium paid off tonight," he said.
The team plays Tuesday against Santa Fe Trail.