Lansing girls defeat Mill Valley
Lang scores 23 points in win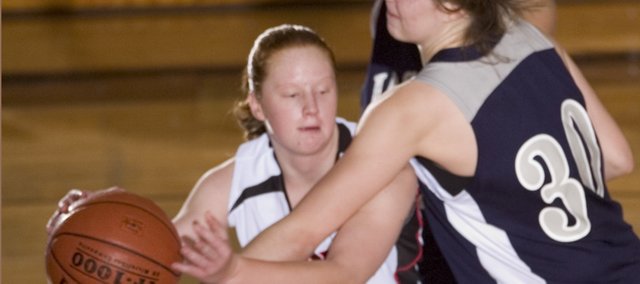 Photo Gallery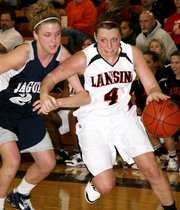 Lansing girls 53, Mill Valley 41
The photos in this album were taken by Lansing High senior Griffin Davis.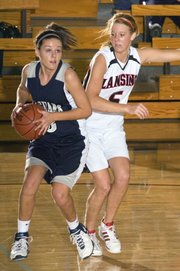 Lansing girls basketball player Brittney Lang did a little bit of everything on the basketball court Friday.
She forced turnovers, grabbed rebounds and scored 23 points.
She walked away a winner as Lansing High defeated Mill Valley, 53-41 .
After the game, she put the team's accomplishments ahead of her own.
"This gives us a lot of confidence coming back from break and now we get to look forward to Santa Fe Trail," she said.
The second quarter was the difference in the game.
Lansing outscored Mill Valley 19-6 in the second quarter and won the game 53-41.
Mill Valley's offense sputtered in the period. Possessions ended with missed shots or turnovers.
"Our intensity picked up and we were better in the full-court defense," Lansing coach Keith Andrews said. "We did a nice job of staying aggressive and getting inside and outside shots."
The Lions were able to make a couple outside shots, which opened up the offense.
Lansing maintained its lead in the second half. Mill Valley scored 10 points in the third quarter and 12 in the fourth, but never was able to crack into Lansing's lead.
The Jaguars' scorers in the game were Brittany Gardner, 11; Becky Newhouse, 10; Kaitlen Stacy, 8; Whitney Hartman, 4; Allie Graviette, 3; Nicole Garretson, 3; Kelsey O'Hara, 2.
In addition to Lang, the Lions' other scorers in the game were Alexis Ellis, 8; Katie Nietzke, 6; Christine Cordes, 6; Amy Briggs, 5; Morgan Chiles, 3; Amanda Darrow, 2.
The Lions led by double digits most of the second half.
Mill Valley returns to the court on Tuesday at Turner. Tip off is set for 6 p.m. A complete story of tonight's game will be in Wednesday's newspaper.