Fashions become fundraiser for center
BLHS

students plan 'Winter Royalty' show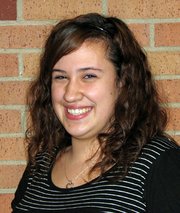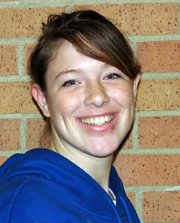 Basehor-Linwood district teachers and students will be strutting down the catwalk with a purpose later this month.
The second-annual Basehor-Linwood High School Fashion Show, titled "Winter Royalty," on Jan. 22 will showcase students of all ages along with teachers in formal wear, but it will also raise money to benefit Sage Femme Birth Center in Kansas City, Kan.
The nonprofit organization provides prenatal, labor and postpartum care to uninsured and low-income women. A visit to the center to paint a mural for a leadership class project last year inspired juniors Ashtynne Farris and Emily Thomas to launch the unique fundraiser.
"We thought they could use a little extra," Thomas said about the birth center.
"A little push," Farris added.
And, according to Kara Higgins, labor and delivery nurse at the center, all donations are greatly appreciated. Most of the center's funding comes from grants and private donors, Higgins said. Other than a small fundraiser the center organizes around Mother's Day each year, the BLHS Fashion Show is the center's only outside fundraiser, she added.
At a typical hospital, Higgins said, it costs about $3,700 just to deliver a baby, but with everything the center offers including prenatal care, pregnancy and parenting classes, labor and delivery and postpartum home visits, the center charges about $3,000.
The center's patients are not required to make set payments each month to pay off their bills.
"They just need to make some sort of payment each month, which is obviously why we need donors and fundraisers," Higgins said. "There's a good chunk of our families that work two or three jobs, but only work part time, so they don't get health benefits."
The first-ever BLHS Fashion Show brought in about $400 last year, allowing the center to purchase a mobile hospital issued procedure light. This year, Thomas and Farris are hoping to hit the $500 mark.
"I just hope we break what we did last year," Thomas said.
Higgins said they most likely would provide the students with a wish list and have them decide how the center should spend the money. Thomas and Farris said when they visited the center last year, they noticed the patients' rooms were in need of some furniture, including couches and dressers. While each of the five patient rooms at the center has a hospital bed, they also include other home comforts such as kitchenettes and themed decor to make patients feel more at ease.
Also on the probable wish list are items for the center's Baby Bucks store, Higgins said. The store, which is stocked full of baby supplies, is used as an incentive for patients to attend classes and appointments. They can earn a certain amount of "Baby Bucks" for each class and appointment they attend to be used at the store.
"We just want to help them out," Farris said. "They need help."
Thomas and Farris still are looking for student volunteers of all ages to walk in the show, which will feature younger students in their Sunday best, teachers in their party wear and high school students in prom attire.
"They will all be kind of dressed up, but age appropriate," Thomas said.
This year, the audience will also have a chance to participate. High school students in the show will be coupled up and numbered, and the audience will choose the best couple by marking ballots. The couple with the most votes will be crowned Winter Royalty.
The BLHS "Winter Royalty" Fashion Show will be at 6:30 p.m., Tuesday, Jan. 22, in the BLHS auditorium. Those attending will be asked to give a donation at the door.
For more information about the show or to volunteer, call the high school at (913) 724-2266. For more information, about Sage Femme Birth Center or to donate, visit the Web site at www.sagefemmekc.org.