Initial interviews impress county commissioner
Commission trying to pare field of administrator candidates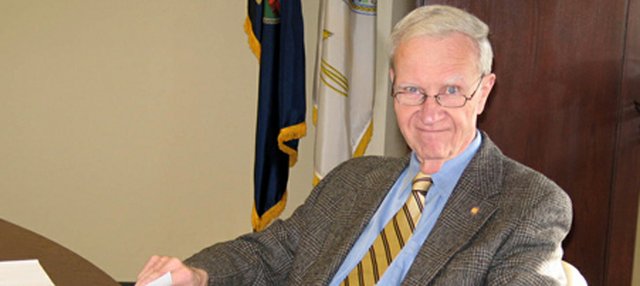 As far as Leavenworth County Commissioner Clyde Graeber is concerned, so far, so good in the search for the first county administrator.
County commissioners began interviews for the newly created position in a series of closed executive sessions Thursday, Jan. 3. Additional interviews are scheduled this Thursday, Jan. 10.
Three applicants were interviewed last week for the position, which has been described as "the administrative officer for the county," responsible for preparing and presenting an annual budget, coordinating the administrative operations of the departments, reviewing contracts and assuming administrative responsibility in areas designated by the county.
Graeber, the 2nd District commissioner, shared his thoughts on the applicants so far and discussed what comes next in the hiring process.
He began the conversation by saying, "I'm limited in what I can say, because I'm only one commissioner, and (the interviews) were held in executive session."
He did express his satisfaction with the applicants so far, however.
"I'm very impressed with the pool we have so far," Graeber said. " : We had a couple people with personalities and experiences that fit like a glove."
Graeber said, personally, he was looking for a candidate possessing "familiarity with a budget, familiarity with state statute and familiarity or experience in a similar position to what we're doing."
He said it's not only important that a potential administrator has the requisite educational background and experience but that he or she also has the right personality for the job and is able to work closely with county staff and the commission.
"This person, we'll be working through them as a liaison to the board, but we want to still keep it open so people can come and talk to the board directly," Graeber added.
Of the original 13 applicants, the field was winnowed to six who fully met the requirements for the job a master's degree in business, public administration, planning or a related field, with five or more years of experience in local government or any equivalent combination of training and experience in the desired duties for the position.
Graeber said after all six interviews were completed, the commission likely would have a call back to talk to the top one or two candidates further and to negotiate a salary for the position.
"We're still in the way-early stage of this," he said, adding, "We want this first person to have the opportunity to be successful."
Asked whether the second round of interviews would be made open to the public or to staff, Graeber explained that it would not be fair to the applicants to do so.
He noted that all applicants are currently employed elsewhere and "they don't want to lose their present job, because they're coming in applying for another one."
All three commissioners have expressed the desire to have a county administrator on board before preliminary budget hearings begin in May.
"I would like to get them on as soon as possible," Graeber said, " : but certainly it would be advantageous to have them on while we're all still here and in time for them to work with our very capable clerk, Linda Scheer, and our accountant before the budget cycle begins."
A salary range for the county administrator's position has been set at $81,549 to $91,549.