Wrestling's winning cousins
Seatons capture titles at Classic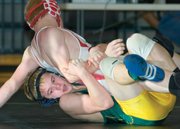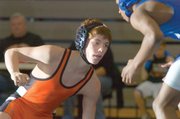 Cousins Caleb Seaton of Bonner Springs High School and Symon Seaton of Basehor-Linwood High School won back-to-back championships at 103 and 112 pounds Saturday afternoon.
The hometown boys enjoyed their trips to victory at the Dick Burns Classic, a 12-team wrestling tournament hosted by Bonner Springs High School.
Basehor is the neighbor to Bonner Springs and Seaton fans were out in full force Saturday to witness the action of the Seaton boys.
"It was pretty cool to be at home," Caleb Seaton said. "My whole family was here. We have had people at the away tournaments, but this one everybody has been able to come to."
Caleb marched through the 103-pound bracket and pinned Sumner Academy's Terrill Wilson in the first period of his championship match to earn the title at home..
"I went out there and hoped for the best," Caleb Seaton said. "It worked out and I came out on top."
Symon Seaton entered the championship match at 112 right after Caleb had walked off the mat as the 103 match champ.
Then Symon Seaton won his match, too.
"It was tough, but I think it was worth it (the competition)," Symon Seaton said.
Symon also felt close to the Bonner crowd as well as the Basehor crowd because of his cousin wrestling for the Braves.
"I have a lot of Bonner relatives, too," Symon Seaton said. "This is so close to our hometown and we enjoy them."
The Seaton boys have come up in families that teach them wrestling skills through Kids Wrestling and Kids wrestling leagues throughout their childhood.
"I thought it was really cool to see Caleb," Symon Seaton said. "We have been training together as little kids. We were always training together. It was good to see us both win."
Caleb is the son of Bonner Springs assistant coach Jerry Seaton.
Symon is the son of Eddie Seaton. Jerry and Eddie are brothers who were both state caliber wrestlers during their high school careers at Bonner Springs High School.They wrestled for coach Dick Burns who was honored during the tournament.
"We like rooting each other on," Caleb Seaton said.
The Seaton boys will have a chance to wrestle in the same tournament again this weekend when the Braves and Bobcats wrestle at Basehor-Linwood on Friday and Saturday. A complete story is on 3B.
Caleb comes into the Basehor tournament with a sparkling 15-1 record.
Caleb's only loss came at the Lee's Summit Tournament, but his second place finish was the best ever by a Bonner Springs wrestler in that tournament.
"The Bonner tournament ranks high up there in competition," Caleb Seaton said. "But the Lee's Summit tournament was probably the hardest out of all of them (so far this season)."
Symon Seaton will enter the Basehor tournament with a 7-1 record.