Care Cat takes mentoring to new level
BLHS

senior uses experiences to teach lessons to second-graders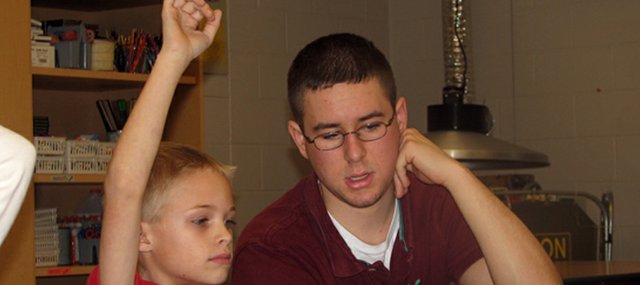 YouthFriends coordinator Tammy Potts is trying to teach her volunteers that it only takes one person to make a difference.
Care Cats, the high school division of YouthFriends that allows Basehor-Linwood High School juniors and seniors to mentor younger students throughout the district, spent part of their first day back to school from winter break watching the movie "Forest Gump" as a part of their semester Care Cat orientation Tuesday. Potts said the students in the group had already seen the usual bullying and how-to training videos in previous orientations, so this was just another way to show them the importance of what they're doing as mentors.
"It gives them an example of how people make a difference," she said. "It illustrates all the difficulties he (Gump) had and how the power of one friend helped shape him."
And, many of the mentors have already experienced the difference they're making in classrooms across the district. During the orientation, students spoke about everything from assisting sixth-graders with those tough fractions and decimals to helping kindergartners focus and behave during class.
But one mentor in particular uses his own personal challenges to teach the young students an important life lesson.
Senior Matt McKinley was diagnosed with Tourette's syndrome when he was about 4 years old and has utilized special education since he was in first grade. He said he struggled in school quite a bit when he was growing up, but now he uses his experiences to relate to the students he mentors.
"In my mind it's not a disability; it's an advantage because I can get the help I need," McKinley said. "If I can help them so they don't go through the struggles that I did and keep them in school, then I'm doing my part."
McKinley has been working this year with Kathy Brown's second-grade class at Glenwood Ridge Elementary School, specifically taking the time to chat about life with some of the students that have behavioral problems before jumping into tutoring sessions.
"You have to keep them on track sometimes," he said.
He also shared how an incentive he gave one of the boys in the class paid off. If the student acted responsibly in class for a month without being warned by the teacher, McKinley agreed to bring him a racing hat.
McKinley said he talked with the student each time he visited the classroom, kept track of his behavior, and pretty soon the student had earned the hat.
"When he got it, he started smiling and put it on to show everyone," McKinley said.
Teaching acceptance
Another important lesson McKinley teaches his students is acceptance. He said when he developed a new vocal tick last semester, Brown and he explained to the class that everybody is different in their own way and nobody should be made fun of because of these differences. McKinley said the class responded well.
"If we can teach people to accept others at a young age, they accept others as they get older," he said. "If we can instill that acceptance in people, then the world would be a better place."
It's typical to hear a chorus of, "Matt's here!" when McKinley walks into Brown's classroom because the students see spending time with him as a reward, Brown said.
"He's awesome," Brown said about McKinley. "He's always pleasant and volunteers when he doesn't have to. He's by far an exceptional person."
McKinley said the excitement the students display is one of the reasons he continues to be a Care Cat and has decided to pursue teaching as a career.
"They all love to joke around and they all want to be the best at something," he said about the students. "They're all really smart in their own special way."
Honors abound
The senior received the top Care Cat award back in October for the most hours served and was recognized for his achievement by riding on the Care Cat float during the Homecoming parade, Potts said.
"Matt is an extraordinary human being because he continues to make choice that not only lift up others, but those same choices lift him up," she said. "He's challenged every day with his own personal struggles yet he overcomes all of that with a very positive attitude, smile and willingness to make a difference in the lives of the students he mentors. He's going to make a great teacher."
There are a total of 128 YouthFriend volunteers in the district, and about 80 of those are Care Cats, Potts said. While the Care Cats have specific orientations to attend, there is always an open call to anybody in the community who would like become part of the YouthFriends organization and mentor students in the district. For more information, call Potts at (913) 724-1727 ext. 111 or e-mail at tpotts@usd458.org.