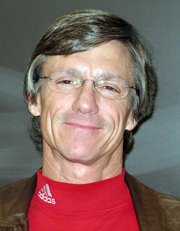 Rob Elkins is probably not your typical first year teacher; he's not young and he's already been part of the Lansing school district for five years.
But this year officially marks his first teaching job ever.
Elkins became a familiar face in Lansing schools about five years ago, when he became the second coach to lead the Lansing girl's soccer team. But he didn't join the teaching staff until this year.
Elkins moved to Lansing in 1999 after receiving an assignment at Fort Leavenworth. Eventually, he retired from the military in 2003.
He said he and his wife, Rachael, who is another familiar face around LHS as the girl's tennis coach, decided they didn't want their two children to have to move all the time because of the Army. Elkin's daughters, Lauren, a senior, and April, a freshman, have been part of the Lansing school district ever since.
Elkins had a master's degree in engineering but said he was always interested in going back to school for teaching. While coaching at LHS, Elkins studied for his teaching certificate in math from the University of St. Mary.
He did his student teaching time at Lansing High and decided that's where he wanted to be for good. This year he's finally gotten the chance to take over his own classroom as a teacher of Algebra I and II.
For Elkins, teaching has always been something that's come easily. In college at Texas A&M University, he was a dorm counselor for a nearby boarding school. There he would rotate shifts in the study hall where he would tutor students in math.
Besides having a knack for math itself, Elkins said he was able to connect and get the students to understand him by coming down to their level. He said he's had teachers himself who couldn't do that and he realized how important it was in the learning process.
"There's a way to reach every student," he said. "You just have to find what works."
In his classroom this year, Elkins said he's concentrated on teaching problem-solving skills.
Watching someone else do math is easy, he said, so he has the students do a lot of practice exercises so he's sure they can do it on their own.
"You can only do so much lecturing," he said. "It comes down to practicing concepts."
Elkins said he brings experience to the Lansing district after having worked with different people throughout his career.
Being in the military was like a teaching job at times, he said, which has helped him develop traits that come in handy now. He said he doesn't get flustered easily and is able to adapt to whomever he needs to work with.
But even with all that experience Elkins admitted that he's a little unsure about how he'll juggle his busy teaching schedule once soccer starts up in the spring.
Already he said time was passing by quickly with planning lessons and grading papers that he joked he'd only get four hours of sleep once soccer practice and games were thrown into the mix.
He's still looking forward to the season, however, especially after the successful season in 2007 that included his team winning the inaugural Kaw Valley League championship. The team also made it to the state quarterfinals, which was a first in the history of the program.
Outside of coaching and teaching, Elkins spends almost all of his time with his family. From visiting Colorado for snowboarding to going to Lake Clinton for a little fun with jet skis, Elkins and his family are all about staying active, which he said he wouldn't have any other way.