Delich ignites, Lansing rolls
Reserve forward provides needed spark as Lions forge tie for league lead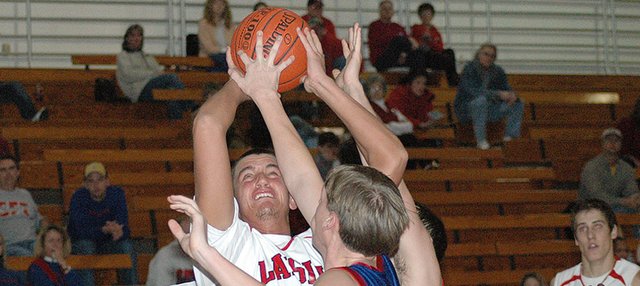 Photo Gallery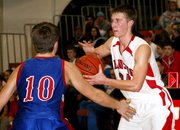 Lansing boys 71, Santa Fe Trail 46
The photos in this gallery were taken by Lansing High senior Griffin Davis.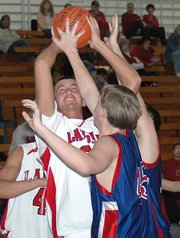 Ryan Delich picked the perfect night to have his best game as a Lansing High basketball player.
The LHS junior forward scored a career-high 15 points to go along with two rebounds, two assists and two steals as the Lions routed Santa Fe Trail, 71-46, on Tuesday night at Johnsmeyer Gymnasium.
Exactly why was Delich's performance so big? Keep in mind Lansing made just three of 19 shots in the first quarter and it led just 11-10. Delich scored seven of the Lions' first nine points in the second quarter to blow the game open, and he had the assist on the other basket during that stretch.
"You know what? The first quarter would've been a real struggle without Ryan Delich playing so well," LHS coach Rod Briggs said. "He had a career-high tonight, I know, and played very well."
It turned out Delich provided the spark LHS needed to finally blow away the Kaw Valley League's last-place team. The Lions went on to score 23 points in the second quarter and took a 34-19 lead into halftime.
"The second quarter was a good quarter for us," Briggs said. "I wish we could've played four like that, and I'd be a little happier."
The final two quarters were pretty good, too. The Lions got four points apiece from Cody Rush, Stephen Didde and Clayton Hall in the quarter, as well as two more from Delich and two free throws from Richie O'Donnell. They then scored 21 more in the fourth quarter, including six more from Delich.
By the end of the night, Lansing had posted its best offensive night in Briggs' two years at the helm. Eight different players scored, and the Lions forced 23 turnovers while committing just eight.
Ryan Fike led Santa Fe with 10 points. Hall matched Delich's output with 15 points. Also for LHS, Rush scored 11, Curtis Beall had nine, Didde scored seven, Chris Hill had six and O'Donnell and Bobby Hauver chipped in four apiece.
The victory improved Lansing's record to 5-3 overall and 4-1 in the Kaw Valley League. Thanks to Tonganoxie's upset victory over Perry-Lecompton, the No. 3-ranked team in Class 4A, LHS now is in a three-way tie for first in the league with Perry and Basehor-Linwood. Lansing plays Basehor on Feb. 1 and Perry-Lecompton on Feb. 22 in the regular-season finale.
Lansing will put its two-game winning streak on the line at 7 p.m. Friday when it travels to Turner High School.