LHS

girls trample Trail
Balanced attack key for Lions in lopsided victory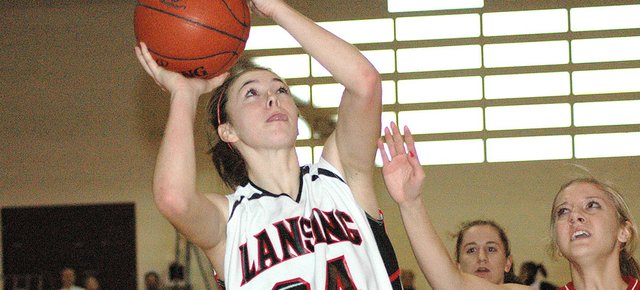 Photo Gallery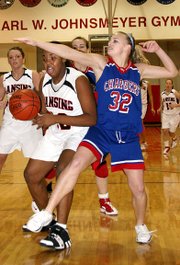 Lansing girls 59, Santa Fe Trail 37
The photos in this gallery were taken by Lansing High senior Griffin Davis.
This time there was no easing up.
Unlike previous lopsided Lansing High girls basketball victories against Bonner Springs and Mill Valley, the Lions didn't let up after taking a big first-half lead Tuesday night against Santa Fe Trail.
Instead, they stepped on the gas and floored it. Their full-court press gave the Santa Fe guards fits, and the Lions' offensive threats delivered from inside and out. Four Lions scored in double digits as they rolled to a 59-37 victory at Johnsmeyer Gymnasium.
The win was Lansing's second straight, and it makes the Lions 2-0 since returning from winter break.
Junior forward Alexis Ellis said the Lions are more focused than they were before the break, and she said that's making a big difference.
"We're really taking it seriously," she said. "We've got Turner next, and they're not that big so we want to beat them, and then we have the Tonganoxie Tournament."
The key for LHS on Tuesday was the way it began both halves. It opened the game on an 8-0 run, and then made a 12-2 burst in the early minutes of the second half.
"We always talk about how the first three minutes of the half are big for us," fourth-year LHS coach Keith Andrews said.
The Chargers had an answer for the opening punch, but they didn't recover from the second blow.
Santa Fe countered the 8-0 run by pulling within 10-8 during the next two minutes. A put-back by Ellis ignited a 13-4 Lansing run that spanned the first and second quarters, and the Lions led by double digits the rest of the way. A three-pointer by Abbey Lozenski gave them their largest lead of the half at 16 points before the Chargers pulled within 33-21 at halftime.
Cassie Pryor's layup in the first minute of the third quarter briefly trimmed Lansing's lead to 10 points, but an offensive explosion during the next 1:48 that included a lay-in by Ellis, a three-point play by Brittney Lang, another Ellis bucket, a Lang trey and two free throws by Katie Nietzke pressed the LHS lead to 45-23. The Lions forced four turnovers during that stretch and then coasted to the finish.
Ellis led LHS with a team-high 15 points and 11 rebounds.
"We had a height advantage inside, and Alexis exploited that a little bit. That's what we wanted to do," Andrews said.
Also for Lansing: Lang had 13 points, seven rebounds and three assists; Nietzke had 13 points, six rebounds and two assists; Amy Briggs scored 11 points; Lozenski had three points; Christine Cordes had two points and six rebounds, and Amanda Darrow had two points and four rebounds.
Kylee Nilges led Santa Fe with 13 points. No other Charger scored more than five.
Lansing now is 5-3 overall and 3-2 in the Kaw Valley League. Santa Fe fell to 1-6 and 0-3.
Lansing next plays at 5:30 p.m. Friday at Turner (0-7) before heading to the Tonganoxie Invitational Tournament next week.