Reliving his childhood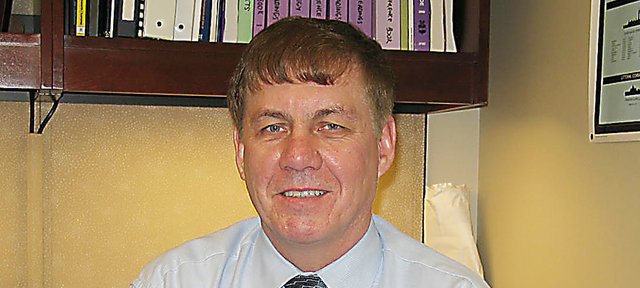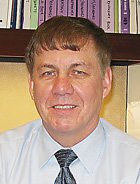 Dave Christie, a retired naval officer and an instructor at Fort Leavenworth's Command and General Staff College since 2002, spends a lot of his free time serving as one of nine volunteer Den leaders for Lansing Cub Scout Pack 3165.
Christie, whose 8-year-old son Danny is a Wolf Scout in Den 8, is able to share in the joys of Scouting with Lansing youths, and he provides a valuable mentor for them as well.
Christie's 11-year-old son David Jr. is also the den chief for the group and is a first-year Boy Scout himself in Troop 167, St. Joseph's Church, in Leavenworth.
"I've had more involvement as an adult leader than I did as a kid," Christie said of his time spent with the Boy Scouts of America.
He added, "Now, through my kids and with the Scouts, I'm kind of reliving my childhood."
Upcoming activities for Den 8 include the annual pinewood derby on Jan. 19 and the rain gutter regatta where Cub Scouts craft and race miniature, handmade sailboats in March.
One of Christie's favorite activities, a model rocket rally, will take place in June.
"The boys really, really get a blast out of it no pun intended," Christie said.
Bear Camp this summer at Camp Naish is an overnight campout that will give his young Scouts an opportunity to swim, shoot BB guns, try their hand at archery and make crafts.
The experience is similar to a campout Christie went on last fall with his family and Den 8 at Camp Naish.
The group also takes part in more service-oriented activities like marching in the Leavenworth Veterans Day Parade, caroling at local retirement homes and gathering donations for the Mayor's Christmas Tree Fund food drive.
His Scouts receive lessons on the value of exercise, healthy eating habits and building strong body and spirit, too.
"I think scouting is a tremendous program. If I didn't believe in it, I wouldn't be as involved with it as I am.
"It helps instill character in the boys, helps them set and achieve their goals and, most importantly, it teaches them to be good citizens : in many ways we help (the Scouts) dream, and it really is a great opportunity."
NAME: Dave Christie
ADDRESS: Windham Hill Subdivision, Lansing
OCCUPATION: Instructor at the U.S. Army Command and General Staff College
FAMILY: Eon Joo, wife; David Jr., 11, son; Danny, 8, son
HOW LONG HAVE YOU LIVED IN LANSING, AND WHAT BROUGHT YOU HERE? "Nine years, and the military did."
WHAT DO YOU LIKE MOST ABOUT LANSING? "It's a small town, and the people are friendly. I think another thing is the schools are excellent."
WHAT DO YOU DO FOR FUN? "A lot of it comes down to my boys. That really takes up quite a bit of my time. Both of my boys are competitive swimmers, so we spend a lot of time on the road, taking them to meets."
WHAT MIGHT SURPRISE PEOPLE ABOUT YOU? "I'm an amateur astronomer."
WHAT IS THE BEST ADVICE YOU EVER RECEIVED? "I could credit my first-grade teacher by saying, 'If at first you don't succeed try and try again.'"
WHAT CLUBS OR ORGANIZATIONS DO YOU BELONG TO? Boy Scouts of America and the U.S. Naval Academy Alumni Association