Resident gets creative with snow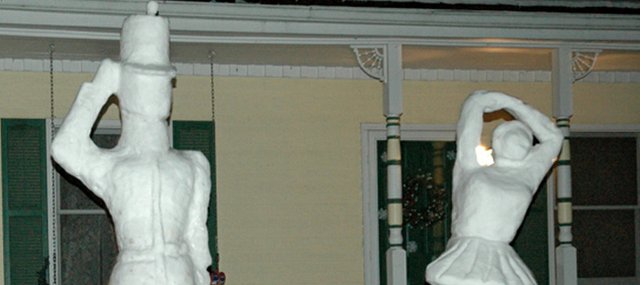 Quite a few lighted displays lined the streets of Lansing this holiday season, but one Lansing resident in particular had a unique take on decorating his family's home.
Randy Dorf, a financial adviser with First Command Financial Planning, spent many night and weekend hours this winter crafting snow sculptures in the yard outside his home at 121 Willow Drive.
Dorf said, last year, he and his son built a giant snowman in their front yard.
This year, he went a bit further.
Dorf's first foray into actual snow sculpting came in early December when he created a large snow dragon in his side yard.
"Nobody knows what a dragon looks like so you could pretty much do what you like," Dorf said.
The dragon was spotted with dirt and leaves, though, and melted quickly as temperatures rose.
His next project came with the heavy snowfall just before Christmas.
Dorf didn't know at first what he would do, but like an artist working with a blank canvas he began to build a large pillar of snow.
Because the snow was so dry, he had to fill plastic buckets and bring them indoors, allowing the snow to melt slightly.
He then packed bucketfuls on top of each other much like a totem pole in order to create the pillar.
But Dorf still had no idea what his final product would become.
Suddenly, Dorf said, it came to him. He could see "a figure in the column of snow."
Using a knife, a wood chisel and a wood rasp, he began carving a replica of the Madonna holding the Christ child.
After about seven hours of work, his Virgin Mary was complete.
Dorf said he had wanted to create a full manger display but added, "There's no possible way I could make all the characters in a nativity scene."
At the behest of Dorf's wife, Robyn, he placed a halogen lamp in front of his sculpture to illuminate the artwork during the night.
Dorf said he received quite a response from neighbors and passersby. People would stop to take a picture and congratulate him on a job well done.
"People told me, 'You really made my Christmas; thanks for doing this,'" he said.
Encouraged by the feedback, Dorf decided to try again.
Sticking with the Christmas theme, he packed snow around the Madonna and began carving a toy soldier.
At one point, though, his light burned out, and Dorf had to take a break. When he came back later, someone or something had knocked over his statue.
Dorf was not discouraged, however. He rebuilt the toy soldier and even added a twirling ballerina to represent Tchaikovsky's Nutcracker Suite ballet.
His most recent project was also well received.
Despite having almost no background as an artist, Dorf displayed what can happen when ordinary people let their creative juices flow.
"I do a lot of things around the house," Dorf said. ": I'm a handyman; but I wouldn't call myself an artisan or a woodworker."
When asked why he decided to decorate his yard the way he did, Dorf said, "It was fun, and I didn't realize the joy that other people would get out of it.
"My neighbors ask who's the biggest kid on the block. That'd be me."
Dorf said he thinks he's probably done sculpting for the season unless there's another good snow.
As far as future projects, he said he'd like to post two snow lions at the end of his driveway and even mentioned giving ice sculpting a try something he said might even be easier than working with snow.