Towne Center plans move ahead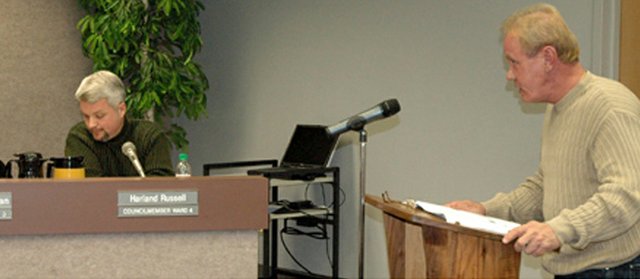 Traffic issues related to the new Towne Center development along South Main Street occupied Lansing City Council members at their first meeting of the new year.
The council approved, by a 6-1 vote at its meeting Thursday, Jan. 3, the general location and architectural parameters for buildings in the development, which is west of Main Street between 4-H Road and Kay Street. Council member Billy Blackwell cast the lone dissenting vote. Council member David Trinkle Jr. was absent.
Also included with the approval of Towne Center's preliminary development plan was an ordinance rezoning the 48.6-acre parcel from a commercial business and multifamily residential designation to a planned unit development, or PUD.
Before the plan was approved, Council members Harland Russell and Blackwell questioned whether a traffic study for an exit onto West Kay Street at the north end of the development should be conducted.
Newly appointed Council member Tom Smith said, "I don't know if we can do a traffic study right now. We have no traffic to study."
Russell countered, however, "It is common to do traffic studies based on projections of traffic. :
"It's also common to do it before the development starts or occurs," he said.
Blackwell expressed concern about the traffic impact on West Kay Street where there was previous talk of a roundabout at the intersection with Centre Drive on West Mary Street and also on the south end of the development.
He pointed to several Kay Street residences that would be encroached upon with street improvements.
"When are we going to address those issues?" he asked.
Developer's study
John Jacobson, Community Development superintendent, assured Blackwell that many of those issues already had been addressed with stacking and turning lanes.
Jacobson said the project's engineer had supplied his own idea of what traffic would be like and said the idea of a roundabout had been eliminated after the realignment of Centre Drive, a reverse frontage road on the east side of Towne Center.
He added that a traffic study could be included in the final development plan of each phase of the project and that a study for West Kay was not necessary in the first phase of the project.
The preliminary plan indicated Phase 1, which is tentatively scheduled to begin in May 2008, is in the center portion of Towne Center, with Phase 2, on the north side of the development, set to begin in August. Phase 3, on the south end, would not occur until at least October.
"The problem as I see it," Russell said, "is that if we have to come back later, we're not going to have the TIF or TDD mechanism to ultimately maybe help pay for these improvements, and we're going to be paying for them at-large after the developer is gone."
Jacobson reiterated again that those determinations could be made with each of the final development plans, which will be reviewed on a case-by-case basis.
"It seems to me to make sense to go ahead and let that intersection (Centre Drive and West Kay Street) be realigned," Smith said. "Put in the stop signs, let them develop phase 1, and then maybe we can get closer to some hard numbers as they start working on Kay Street, and we'll worry about what we have to do with that intersection."
Jacobson recommended holding off on a traffic study until a definitive use for the buildings in Towne Center was determined.
"Does Wal-Mart have more ample parking than, say, Kohl's?" Jacobson said to demonstrate his point.
Zoning designation
After discussing traffic-related issues, council member Janette Holdeman-Labbee asked Jacobson to clarify why city staff preferred a planned unit development (PUD) as the zoning designation for Towne Center.
Jacobson explained a PUD was necessary because there are a number of mixed uses on the site that aren't necessarily allowed under other zoning districts.
"It gives you the ability to have multiple uses within a single district," he said.
According to the preliminary plan for Towne Center, those uses could include retail stores, restaurants, banks and even a hotel.
Holdeman said the PUD gives the developer a "larger free hand" in what would actually go into Towne Center.
Jacobson agreed but said the project's final development plan would have complete details as far as use goes.
Construction dates
Council president Andi Pawlowski then asked about the construction dates mentioned.
"We've seen these before," she said. "Is there any reason that we should assume these dates are anywhere close to what they will be?"
Jacobson acknowledged that the dates presented were "a shot in the dark."
"Everything that you see on this page is going to be market driven," he said, adding, "Nothing here is set in stone : the final development plan is."
Developer speaks
After hearing more than a half-hour of discussion, Jess Davis, one of the partners in the Towne Center development, let his voice be heard.
In regard to a traffic study, Davis said, "We're not objectionable to doing traffic studies, but in this case : we went through it on our own.
"We are concerned or probably more concerned than the city is with getting traffic in and out of the project. It does not behoove us to make it hard for a customer to get in and out of down, nor to make it dangerous for a customer to get in and out. That does not make for a successful project for any of us."
He said plans for a roundabout on West Kay Street were removed because of several issues, including an inability of work trucks and school buses to maneuver through the intersection.
Davis added if Kay Street caused a problem in the future and he said he'd bet a "steak dinner" on the fact that it would his suggestion would be to make it a one-way road.
Foremost, though, Davis emphasized that so much is still up in the air with Towne Center, including what tenants actually will occupy the center.
"We've never done a project where everything is in place," Davis said.
He added that right now his development team is worrying about moving 300,000 cubic yards of dirt from the south end to the north end of the property.
After hearing Davis' comments Russell told him, "After reviewing the plans, I will say : It's a wonderful project, and I want to personally thank you for bringing it to our town."
Other business
In other business Thursday, the council:
¢ Approved, 5-2, with Blackwell and Russell opposed, a contract with Arcadia Publishing to create a book chronicling the history of Lansing in time for the 50th anniversary of Lansing's incorporation in 2009.
Topics for the book will include the founding of Lansing, the history of the state penitentiary, railroads, rural life, military heritage and the future of the city.
Royalties for the book at 8 percent per copy are to go toward the Kansas Regional Prisons Museum fund.
Russell asked whether proceeds could instead be diverted back to the Lansing Historical Museum itself to pay for damage caused from a fire in July.
Mayor Kenneth Bernard said insurance would pay for the majority of damage to the museum and anything not covered would be discussed at the council's next regularly scheduled meeting.
Pawlowski added that the council agreed the regional prisons museum would not be paid for out of public funds.
"I think that's where the money should go," she said.
¢ Approved, 6-1, with Pawlowski opposed, to award a publishing contract to Leavenworth-based PenSword Publishing for the Lansing 2008 visitor's guide.
PenSword agreed to provide the city with 6,000 booklets at no charge and provide 20 percent of all profit after expenses to the city.