Lansing boys edge Turner in
OT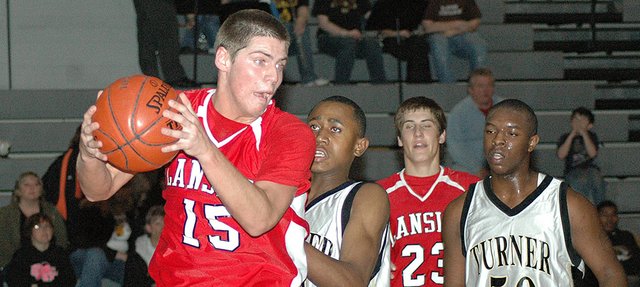 Photo Gallery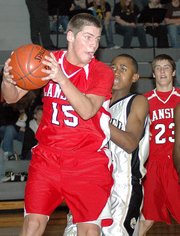 Lansing boys 48, Turner 40, OT
Kansas City, Kan. — That chilly breeze you're feeling this morning might have nothing to do with the Midwest plains.
It's probably the sigh of relief coming from Lansing High's boys basketball players after they blew a double-digit lead, missed free throws and turned the ball over down the stretch before ultimately squeaking out a 48-40 overtime victory Friday night at Turner.
It was too close for comfort for the Lions, but LHS coach Rod Briggs said Turner deserved plenty of credit for giving fans in the stands a reason to bite their nails until the end.
"It wasn't our best effort, but you've got to give credit to Turner," he said. "I was so impressed with how hard they played and the effort that they gave, and you've got to do that when the other team plays like that. We're just lucky to win on the road like that. We'll take it."
The Lions were sharp early, and the first quarter looked like the prelude to a blowout. They sprinted to a 9-2 lead in the first five minutes as Kevin Johnson and Stephen Didde scored quick layups, Clayton Hall swished an 18-footer and Bobby Hauver sank three free throws.
The lead grew to double digits when Brian Beall's three-pointer early in the second quarter put LHS ahead, 18-7.
At that point, the Lions eased up and the Bears got tougher.
"I think some of it also is we started looking at scores and see who beat who," Briggs said. "We beat Mill Valley by 20 last week, and then Turner got beat by Mill Valley.
"Bit I think you've got to give Turner credit because they played really hard, and they've proven that they can beat good teams. They beat Atchison (No. 6 in Class 4A KBCA poll) and they've got some good wins."
Turner scrapped back to within 25-20 by halftime, and it inched to within 34-31 by the end of the third quarter.
The Bears tied the game with a 4-1 run early in the fourth quarter, but a put-back by junior Curtis Beall gave the Lions a 37-35 lead with 3:02 to go.
Turner tied the game a minute later when a missed LHS free throw turned into a quick layup at the other end by Travis Croom. Neither team scored down the stretch, and the game headed to overtime tied at 37-37.
Didde made a steal early in overtime and was fouled at the other end. He knocked down both free throws, and Lansing led the rest of the way. It sank nine of 14 free throws in the extra four minutes.
Cody Rush led Lansing with 11 points and Didde had nine. Also for LHS, Johnson, Hall and Brian Beall scored six points apiece, Curtis Beall had five, Hauver scored three and Ryan Delich added two.
Croom led Turner with 17 points. The Bears now are 4-4.
The win was Lansing's third in a row, and it remains undefeated in 2008.
LHS (6-3) next plays at 4:30 p.m. Monday against Jefferson County West in the first round of the Tonganoxie Invitational Tournament. The Lions won two out of three games in the tournament last year and placed fifth, and this year they hope to make a run at the championship.
Briggs said the key to doing that is simple.
"(We have to) play better than we did tonight, and kind of play like we did last Friday against Mill Valley and just continue from there," he said.