Trigger-happy
LHS

girls take down Turner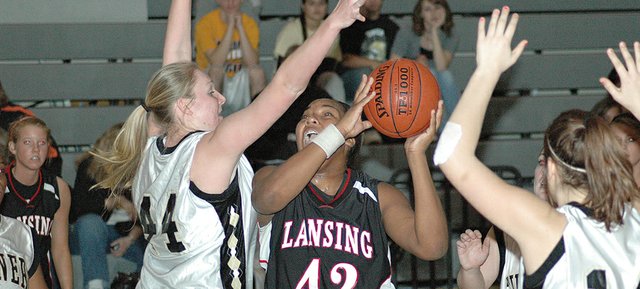 Photo Gallery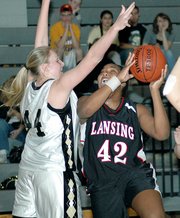 Lansing girls 62, Turner 30
Kansas City, Kan. — Sometimes even the worst of shooting nights can't get you down.
That was the case Friday night for the Lansing High girls basketball team when it rolled to a 62-30 victory at Turner despite making just 35 percent of its shots.
The win was Lansing's third in a row, and it remains undefeated in 2008.
"The nice thing is they're not reluctant to shoot the ball," said LHS coach Keith Andrews, whose team wasn't shy on offense while attempting 65 shots.
"In a game like this things kind of get kind of ugly and kind of sloppy and a lot of whistle stop action, and it's hard to get any kind of rhythm."
With the exception of a nine-for-16 accuracy rate during the second quarter, LHS struggled to score with any consistency. It didn't matter, however, because the Lions' relentless pressure defense gave Turner's youth-laden squad constant fits.
Lansing forced 16 turnovers in the first quarter and turned an early 4-3 deficit into a 10-point lead by the end of the quarter.
The Lions blew the game wide open early in the second quarter when it scored seven points in 30 seconds. Sophomore Katelyn Griffen buried an 18-footer, junior Brittney Lang swished a three-pointer and senior Katie Nietzke scored on a layup. Sophomore Amy Briggs had three steals in the quarter, and all led to Lansing baskets. Lang scored eight points in the quarter and Griffen had seven as LHS built a commanding 40-12 lead by intermission.
The Lions grew comfortable with the lead in the second half and had sloppier possessions, but they continued to expand the lead in the third quarter. A three-pointer by sophomore Abbey Lozenski at the end of the quarter gave them their largest lead of the game at 56-18. The reserves saw the bulk of the action in the fourth quarter as LHS coasted to the victory.
Ten different Lions scored, led by a game-high 18 from Lang. Morgan Chiles scored nine, Griffen and Nietzke had seven apiece, Briggs had five, Amanda Darrow and Christine Cordes each had four, Alexis Ellis and Lozenski added three apiece and Katie Cristiano chipped in two.
Andrews said he was pleased with the play of Lansing's reserves after they accounted for 40 percent of the offense.
"We got everybody more court time, period," he said. "Now they've just got to capitalize on the moments and accentuate from there."
Senior Lyndsay Wilkinson and junior Bonnie Robson led Turner with six points apiece.
Lansing improves to 6-3. Turner fell to 0-8.
LHS next plays at 3 p.m. Monday against Jefferson County West in the first round of the Tonganoxie Invitational Tournament. Lansing made it to the tournament finals last year where it fell to host school Tonganoxie. Andrews said he hopes his team will make a return trip this year.
"I'm anticipating a chance to play Tonganoxie again," he said. "It'd be great to be in the finals. It'd be a great atmosphere down there. We've got to worry about getting those first two in the win column. Hopefully we'll get out to a good start against Jeff West."