Competition is a joke
Mill Valley students improvise for fun, scholarship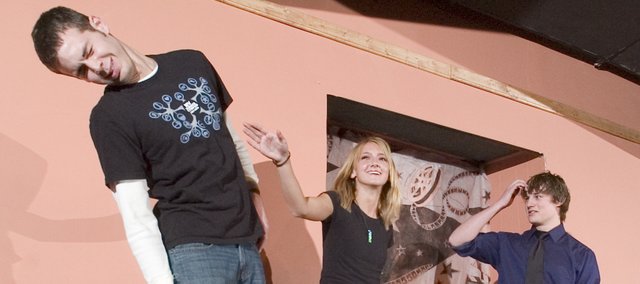 Patrick Shields rounded up his Mill Valley High School friends Saturday night for a battle against Piper High School students.
But instead of throwing up their fists, they cracked some jokes.
The students were part of the Roving Imp Theater's High School Showdown. The Bonner Springs theater offers free improv classes for high school students. The students meet once a week for a one-hour rehearsal and then perform once a month for their friends and families.
The competition occurs during the performance when audience members vote for their favorite team by applause. Points are awarded for each activity based on the vote and the team with the most points in the end wins.
Patrick, a junior at Mill Valley, said he found out about the improv classes from his dad, who knows the Roving Imp's owner and operator John Robison. So Patrick set out to find some improve teammates by asking his classmates at Mill Valley.
"We were all in musicals and plays at school," he said of his team members. "I just said 'Anybody want to do it?'"
The all-junior Mill Valley team consists of Patrick, Wes Young, Chelsea Hillebert and Josh Longhofer.
The team had been rehearsing for the performance since about October, where they learned improv rules and practiced games with Robison.
"He teaches us technique, like don't ask questions and don't deny," Wes said.
Chelsea said she had always been involved in musicals and wanted to expand her experience.
"It's helping us think on our feet a little bit," she said. "The only wrong thing is to not say anything at all."
The experience is new for all except Josh, who said he had done improv with Christian Youth Theater.
Wes said he and Patrick are in a forensics duo together and that he was sure learning improv would improve their performance.
Patrick also said there is another reason he chose to do improv.
"I'm kind of shy," he said with a grin. "I thought if I did improv I'd get better at conversations and being social. Being spontaneous is really important to just interact with people."
So far, learning improv has helped with his shyness, Patrick said.
"I realized I had a lot of mental blocks about saying stuff," he said. "I had to think about it first, then analyze it, then say it."
Robison said although Mill Valley and Piper are the only schools participating in his high school program now, he hopes it catches on.
And it isn't all just fun and games. Robison said he hopes to award either one scholarship to the winning team or a scholarship to each student. The scholarships would be awarded based on all of the performances leading up through the final performance in May.
"I think it would be really neat to give away at least $500," he said.
Saturday night the two teams went head to head to rack up the most points. The scores were close all night, but Piper came out on top, 47-44.
"They were really good," Patrick said of the Piper team. "I think it we did well for our first time."