BLMS

students also earn musical recognition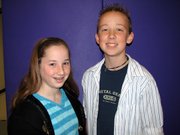 When it comes to musically talented students in the Basehor-Linwood School District, the pool isn't limited to high school students.
Basehor-Linwood Middle School eighth-graders Marcas Box and Danae Leppke received high honors when they learned they were accepted into the Southwestern American Choral Directors Association eighth-grade through 10th-grade boys honor choir and eighth-grade through 10th-grade girls honor choir respectively.
Box and Leppke competed with students from all over Kansas, Missouri, Arkansas, Texas, Oklahoma, Colorado and New Mexico by submitting a recording of a prepared solo selection along with five notes ascending at the top of the range and five notes descending at the bottom of the range.
Chorus director Wendi Bogard said it is quite an accomplishment considering the number of submissions the judges listened to.
"They're competing with kids from all those states as well as older kids," she said.
The two eighth-graders will perform at the ACDA 2008 Southwestern Division Convention Feb. 20 through 23 in Kansas City.
After that, Leppke will join fifth-graders Hailey Kendrick from Basehor Elementary School and Lindsay Taylor from Glenwood Ridge Elementary School, sixth-grader Brooke Wilson, BLMS students Misty Adkins, Bridget Davis, Alexis Hunt Frank, Kristin Mance, Cheyenne Morris, Taylor Riley and T.J. Ware along with BLHS freshmen Bailey Fahrenkrug, Cari Keck and Ashley Morris at the state KMEA convention with the other BLHS band and choir students at the end of February, in Wichita.
These students were selected as members of the Kansas Choral Directors Association Middle Level Honor Choir and auditioned by submitting a solo recording. Box was selected to perform with the Kansas Music Educators Association Middle Level Choir.
Bogard said the students will rehearse all day Friday, Feb. 29, and perform a joint concert at the Century II Convention Center early Friday evening.
"The auditions are competitive and the singers represent the best of the best," she said.