County commission taps Graeber as chairman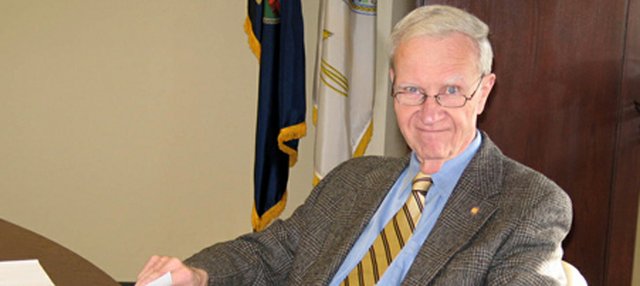 An annual review of Leavenworth County's general structure and policies brought over a dozen department heads and employees to the commission chambers during a public meeting Monday.
Commissioners approved a new chairman, a new salary matrix for non-elected personnel and considered standardizing a fee structure for open records requests.
Clyde Graeber, representing the county's 2nd District, will replace J.C. Tellefson as commission chairman in 2008.
The chairman leads discussion and voting during commission meetings, but his power is largely signatory, with the position rotating between the county's three voting districts each year.
In regard to personnel, the commission unanimously accepted a 1.5 percent cost-of-living increase for non-elected personnel and approved reimbursement for mileage equal to the rate for state employees.
Commissioners will take up the issue of meritorious raises for appointed and "rank and file" employees Thursday as well as establishing a pay increase for elected officials.
In other housekeeping items, the commission voted, 3-0, to send out requests for proposals for an official county newspaper, with bids due back Jan. 28.
Commissioners also agreed to maintain the county's current voting districts, commission meeting dates and depositories for county funds.
In other business Monday, the board:
¢ Noted that engineer estimates from HNTB for the final cost of improving County Road 1 south and west of Tonganoxie have been received, with an announcement of those figures to be presented at the commission's Jan. 24 meeting.
The commission had previously committed up to $10.8 million for the project, which will level, widen and extend utilities along County Road 1 leading to a proposed interchange with Interstate 70.
¢ Met with Sheriff David Zoellner and district court representatives in an attempt to resolve storage issues that are delaying planned renovations in the basement of the Leavenworth County Justice Center.
Zoellner said he intended to revive a Justice Center building committee composed of a member of his department, the Leavenworth Police Department, a county commissioner, a city commissioner and an at-large resident, to find a location for excess files and equipment.
"I just want to get this thing resolved," Graeber told the sheriff.
¢ Heard a quarterly report from Council on Aging representatives Linda Lobb and Julie Angello, who presented commissioners with a proposal by Humana to provided up to 10 meals to Medicare recipients upon discharge from the hospital.
The commission approved the proposal, which will reimburse the county $45 for a 10-meal package sent within Leavenworth's 66048 zip code and $55 elsewhere in the county, 3-0.
¢ Heard a quarterly report from Jason Auvil and Tony Turner with the county's Solid Waste Department.
Turner reported $87,155 in 2007 income about $3,000 short of the 2006 figure but over $2,000 more than what was budgeted for the year.
Auvil provided research on dump rates charged by landfills in St. Joseph, Mo., and Shawnee to be factored into a report on different scenarios for fee schedules at the Leavenworth transfer station that he will present to the commission in the coming weeks.
¢ Met in executive session for five minutes with Lobb to discuss personnel matters.
¢ Met in executive session with Anne deShazo, administrative contact for the Juvenile Justice Authority's 1st Judicial District, for 20 minutes to discuss personnel.
¢ Met in executive session with Zoellner for 10 minutes for personnel.
In business Thursday, Jan. 10, the board:
¢Conducted three final interviews for candidates that applied for a county administrator position.
A determination on how to proceed with selecting a finalist or finalists has yet to be made.
¢ Heard a quarterly report from Leavenworth County Emergency Management director Chuck Magaha, who said he was confident Leavenworth County would receive federal reimbursement for snow and ice damage incurred during and after an early December ice storm.
¢ Met in executive session for seven minutes with Magaha to discuss homeland security issues.