Cousins lead schools in 30-team wrestling tourney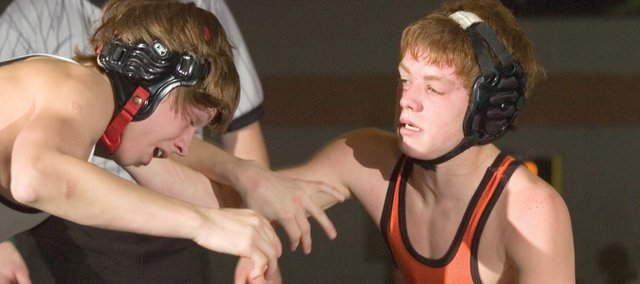 The Seaton cousins continued to shine on the wrestling mats last weekend for Bonner Springs and Basehor-Linwood high schools, respectively.
Symon Seaton placed third in the 112-pound weight class at the Bobcat Classic last weekend.
He defeated Kevin Taylor of Silver Lake in the third-place match.
"I thought Symon did a good job," coach Scott Neil said.
Neil had tried to get Seaton placed on the other side of the bracket from Baldwin's Alan Callahan, but he was unable to get that accomplished.
"We wrestled him to a 3-2 match," coach Neil said. "We are looking forward to a rematch with him. Symon is looking forward to it. We probably won't see him until the state tournament actually. We have a little time to do some work. We have other kids to wrestle before we see him."
After wrestling Callahan, 20-0, early in the tournament, won numerous matches to work his way through the backside of the bracket and into third-place match.
Seaton actually wrestled better after losing that match, Neil said.
"He came back and dominated his way through the consolation part of the bracket," Seaton said. "I think he wrestled better after that match. He started being more poised and didn't make as many mistakes."
Caleb Seaton also placed third in the 103-pound weight class.
Bonner Springs wrestler Caleb Seaton placed third in the tournament.
"He showed a lot of toughness to come from behind like that at the end," coach Dan Burns said.
He trailed by one point and needed a takedown to win the match.
Caleb's performance led the Braves who wrestled tougher in the tournament, Burns said.
"They wrestled well, they probably wrestled the best they have all year," Burns said. "They showed a lot more heart and stayed in matches. They started doing some of the things we had been working on."
The wrestlers were not pinned as quickly and had a shot to win. Wrestling three periods was a step forward for the Braves.
The wrestlers all experienced some level of success in the tournament.
"We brought six kids and all have won a match," Burns said.
The Bobcats also wrestled well, Neil said.
In addition to Seaton's performance, the Bobcats had other wrestlers perform well in the tournament.
Austin Call won a couple matches for Basehor-Linwood in the 140-pound weight class. Martin Buck also won two matches in the 130-pound weight class.
Buck was leading in one match by two points with about five seconds left. He allowed his opponent to escape and then gave up a takedown.
"He relaxed, the kid escaped and took him down," Neil said. "I told him you don't relax until the whistle blows."
Joe Johnson also wrestled well in the 135-pound weight class, finishing with a 2-2 record. He did a nice job of cutting weight to wrestle in that weight class.
Johnson started the season at 143 pounds and did a nice job of cutting weight this season.
"I was happy with him making the weight and doing very well at the tournament," Neil said.
The team's other wrestlers in
the tournament were Mike Torrez, 103-pounder; Miles Brown, 119-pounder; Rob Peterson, 125-pounder; Austin Call, 140-pounder; Chandler King, 152-pounder; Zach Roberts, 160-pounder; Andrew Stueckemann, 171-pounder; Josh Bowen, 215-pounder, Jordan Chaney, 285-pounder.
"We wrestled okay at times," Neil said. "I thought we should have won a few more matches here and there."