City honors outgoing police chief
Health reasons force Horner to retire; council appoints department veteran to post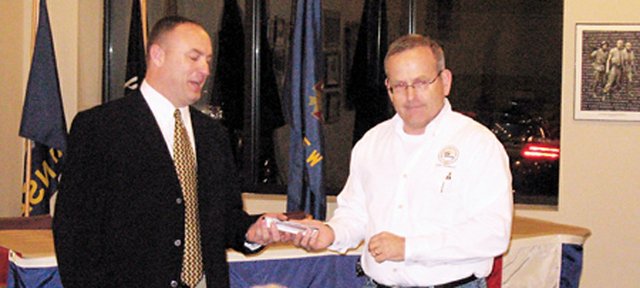 At a reception for outgoing Basehor Police Chief Terry Horner, dozens of residents, police officers and city officials stopped by to recognize Horner for his three years of service and to wish him well in all future endeavors.
"He's made the biggest impact to the Basehor Police Department we've ever had," said Sgt. Greg Hallgrimson, who has been with the force for five years, said. "Even in the position of chief, he was there to back us up; he was always there to give us good advice."
Horner signed on as chief in August 2004 and went right to work, familiarizing himself with the community.
Basehor City Council President Terry Thomas said Horner who announced his decision to step down due to health concerns last month was most successful in "raising the awareness of the public to the Police Department" and "making police business a priority for the council."
Horner told those gathered Thursday at the Basehor VFW that, after 25 years of working in law enforcement, "Basehor has been the best job I've had."
He noted that, under his tenure, the department improved public relations and grew by nearly 70 percent.
The force is now 18 officers strong, with 11 working full time.
Horner added that in the past three years, the department's evidence room was computerized, emergency management plans were developed, a full-time, federally funded drug enforcement officer and a police detective were added and a physical and written agility test for entry level officers was implemented.
"I think I left the department in better shape now than when I inherited it," Horner said.
He noted the most memorable cases he worked on as being a Basehor business owner who was arrested for eavesdropping on customers using a video camera. That individual has since been apprehended for murder in Johnson County, Horner said.
Horner also mentioned a case involving a Basehor man who admitted to assaulting his wife and who then taunted police for more than two months before being arrested in Warsaw, Mo., in January 2007.
After the 6 p.m. reception for Horner, city staff and several residents headed south two blocks for a 7 p.m. Basehor City Council meeting.
At that meeting, Lt. Lloyd Martley, who has been an officer in Basehor for around 12 years, was named as Horner's replacement, effective immediately.
"My plans are to step in and pick up where Chief Horner left off," said Martley, who also brings 15 years of management experience as a banker to the department. "The department's moving efficiently now, and I'd like to keep it moving as positively and efficiently as it has been."
Also in the meeting, the council:
¢ Unanimously approved a resolution requesting that first and foremost a signal light at 155th Street and U.S. Highway 24-40 remain at its current location.
Also, as part of the resolution, the council requested "full access intersections at 142nd, 150th, 158th, 166th and 178th Streets as the city develops and the need exists."
As part of the U.S. 24-40 Corridor Study, a 30-year master plan that has been in the works since mid-2006, Kansas Department of Transportation engineers previously included plans for full access intersections in at least one-mile increments in an effort to reduce access and maintain adequate traffic flow. Intersections that could be equipped with signal lights in the future, according to those plans, included 150th and 158th Streets, but the plans indicated reducing 155th Street to right-in, right-out access only.
The resolution emphasized that with a signal light already in place at 155th and with the high school, post office, fire department, police station and City Hall all on that main road, the light should be retained.
Ed McIntosh, a developer attempting to bring a grocery store to Wolf Creek Junction at the northeast corner of 155th Street and U.S. 24-40, spoke up at Thursday's meeting, saying he would be willing to personally draft a letter to the Kansas Department of Transportation as someone wanting "to get this thing done."
"I'm trying to promote a settlement of the issue," McIntosh said.
City Administrator Carl Slaugh noted that a meeting with the Leavenworth County Commission and several KDOT representatives was scheduled for 10 a.m. Jan. 28 at the County Courthouse.
¢Approved an ordinance setting sewer connection and monthly maintenance fees by a 3-2 vote, with Council members Keith Sifford and Iris Dysart opposed.
¢Approved, 5-0, payment to the Kansas Municipal Insurance Trust for worker's compensation coverage in 2008. The 2008 premium is $22,702 compared to $15,410 in 2007.
¢Tabled, 4-1 (with Sifford opposed), an ordinance amending the code to restrict trucks over four tons from driving on residential streets.
Washington said he thought the weight restriction was too low.
¢Tabled, 3-2 (with Sifford and Terry Hill opposed), a discussion on 2008 wage adjustments for city employees.
¢Approved, 5-0, the purchase of a new vehicle for the Basehor Police Department at a cost not to exceed $26,000.
¢Met in two executive sessions totaling 25 minutes to discuss non-elected personnel and real estate acquisition.