Focused on the finals
Lansing girls survive first-round scare, hope for title rematch with Tonganoxie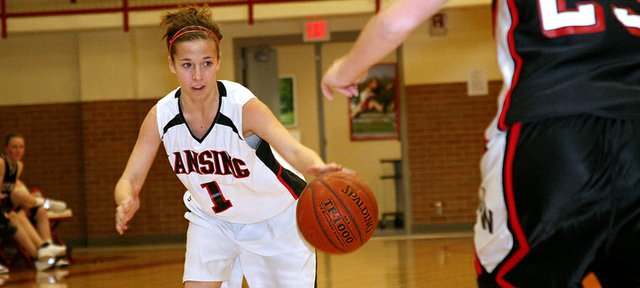 Photo Gallery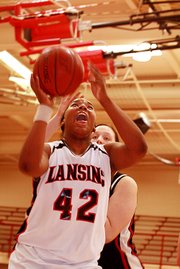 LHS girls take down Jeff West
The photos in this gallery were taken by Lansing High student Dylan Delich.
Photo Gallery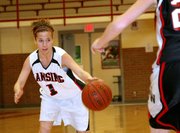 Lansing girls take down Jeff West
The photos in this gallery were taken by Lansing High senior Griffin Davis.
Photo Gallery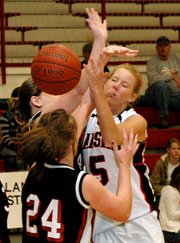 Lansing girls 47, Jeff West 39
Tonganoxie — Someone had a case of the Mondays.
In this case, it was the Lansing High girls basketball players during their first-round game of the Tonganoxie Invitational Tournament on Monday afternoon against Jefferson County West.
The Lions were in control for a little over two quarters, but then they stopped doing the basics. They traveled, threw the ball away and missed layups, layups and more layups. They went scoreless for nearly eight minutes and allowed a 13-0 run.
Despite those glitches, they still found a way to win - thanks in large part to senior Morgan Chiles' calming presence in the fourth quarter. She came off the bench to score three baskets and grab a handful of rebounds as the Lions hung on for a 47-39 victory.
"She's done a great job for us," LHS coach Keith Andrews said of Chiles. "You've got to give her credit because she plays in spurts, and sometimes she doesn't play a whole lot. In the second half she didn't play until the fourth quarter, and she comes in and dominates the quarter for four or five minutes."
Chiles said she was happy to do her part in the victory.
"I just knew it was close and someone needed to step up and do it," she said. "I said, 'It might as well be me since I'm in now.'"
Chiles made back-to-back layups in the fourth quarter that snapped a 35-35 tie. Her third layup gave Lansing a 43-35 advantage with three minutes remaining.
The game never should have been that close, however. LHS led 14-13 after the first quarter, but it opened the second quarter on a 6-0 run and took a 24-17 advantage into halftime.
The Lions remained hot during the first two minutes of the third quarter. Alexis Ellis scored inside, Amy Briggs went coast-to-coast for a layup and Brittney Lang swished a three-pointer that gave them a 31-21 lead with 6:20 left in the quarter.
Lansing went zero-for-nine the rest of the quarter and turned the ball over five times. Meanwhile, Jeff West rallied and took a 34-31 lead early in the fourth quarter.
"In the third quarter we missed four layups, we traveled three times and we threw it away twice," Andrews said.
"When you're up by 10 you've got to deliver a knockout blow or sustain their blow, and we did neither."
What the Lions did do was find a way to win anyway. Lang scored two buckets early in the fourth quarter and then Chiles provided the spark that helped them pull away.
Lang scored a game-high 15 points, Briggs and Ellis had 10 apiece, Chiles had six, and Amanda Darrow, Christine Cordes and Katelyn Griffen each chipped in two.
Lansing now is 7-3 overall and undefeated in 2008 with four straight victories. Andrews said that is an accomplishment that his team should be proud of, but he said they shouldn't be satisfied.
Judging by Chiles' reaction, they definitely aren't satisfied yet. Not when a tournament championship is within reach. Lansing plays Eudora at 3 p.m. Friday in the tournament semifinals. LHS then will play Saturday in the title game at 5:30 p.m. or the third-place game at 1 p.m.
Chiles said the Lions would prefer to be in the championship - and they'd like to play Tonganoxie in a rematch of last year's title contest.
"We want it bad," she said. "I've never beaten Tongie in my basketball career, and it would just be extremely amazing if we could do it my senior year in the Tonganoxie Tournament on their floor, and then hopefully we can beat them again at home."