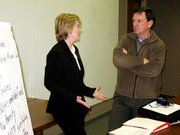 Curbing illegal immigration was of primary concern for many of the nearly 20 Leavenworth County Republicans who gathered Saturday afternoon at the Leavenworth Public Library to provide input on the party's platform and state legislative agenda.
The town hall meeting offered an open exchange of ideas from GOP voters in the county and two members of the Kansas Legislature.
That feedback along with input from other voting districts will give "marching orders" to state Republicans in the current legislative session, said Rep. Peggy Mast, R-Emporia, the moderator for Saturday's event.
Immigration was the first topic of discussion, raised by John Bradford, a resident of Lansing.
Bradford suggested passing laws similar to those in Arizona and Missouri that would "significantly fine" employers who hire undocumented workers.
He said taking punitive action on employers themselves would "dry up the market for illegals and will also start a migration homeward."
Donna Gillett, legislative chairwoman of the Leavenworth County Republican Women, spoke against the idea of a NAFTA superhighway that would connect Mexico, the United States and Canada, creating, what she called a "North American Union."
"It will cause the U.S. to lose its sovereignty," Gillett said. "Eighteen state legislatures have passed or are working to pass resolutions against the North American Union, and Kansas should be the next one to do so."
She added that the state should not fund social services except "in bona fide medical emergencies" or offer in-state tuition at Kansas universities to illegal immigrants.
"Every taxpayer has a moral right to expect that his earnings will not be taken from him and then be used in such a way to encourage lawbreaking," Gillett said.
Steve Fitzgerald, who has announced his candidacy for the 5th District Kansas Senate seat, said his attempts to find out how many illegal immigrants there were in grades kindergarten through twelfth in Kansas from the Legislative Post-Audit Committee and the state Board of Education were "met with frustration on the basis that seeking the information was tantamount to an attempt to discriminate."
"The people of the state of Kansas need to determine what their policies are going to be, and, to do that, they need to have facts," Fitzgerald said as reasoning for compiling objective information on illegal immigrants.
He also made sure to emphasize, "The Republican Party is for immigration; it's the illegal part that's causing trouble."
Another subject that received significant discussion Saturday was the American health care system.
Third District Sen. Roger Pine, R-Lawrence, voiced his support for Health Savings Accounts, or medical savings accounts that are offered to supplement a policyholder's high-deductible coverage on a tax-free basis.
Other arguments presented Saturday included:
¢ Making changes to the state judicial system.
Leavenworth resident Al Stevens advocated popular election of all judges in Kansas. He also recommended requiring appointees like the one who replaces Kansas Attorney General Paul Morrison to be subject to a vote at the subsequent general election.
Ed Humphreys, of Lansing, suggested limiting the lifetime appointment of Supreme Court justices on a federal scale.
¢ Setting a standardized sales tax throughout the state.
¢ Creating a Taxpayer Bill of Rights.
¢ Taking a stance on climate change.
¢ Protecting concealed carry laws and the U.S. Constitution's 2nd Amendment.
Ideas for the platform voiced Saturday in many ways echoed tenets of the 2008 legislative agenda that was announced Friday, Jan. 11, by the Kansas House Republican Caucus.
That agenda emphasized the state's budget, taxes, health care system, immigration laws, education system, economic development and tourism, election structure and crime enforcement.