LHS

students earn spots in state band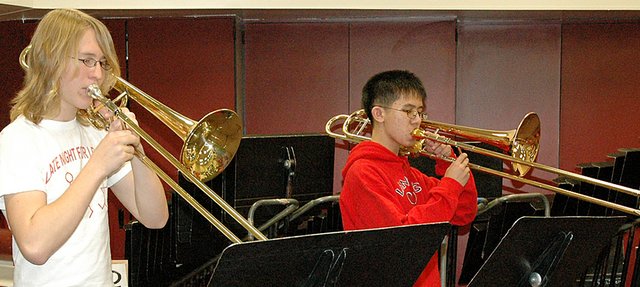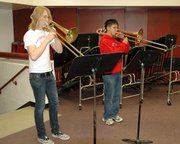 It was a blind audition with nothing but the sound of a deep trombone filling the room.
Judges sat and listened as notes from Alexander Guilmant's "Morceau Symphonique" rang out strong.
This was the scene as Lansing High School trombone players Edwin Fluevog, 18, and Stephen Long, 16, took their turns Saturday, Jan. 5, among 1,000 other Kansas high schoolers vying for a spot on The Kansas Music Educators Association All-Sate Band.
Fluevog, LHS senior, and Long, LHS sophomore, successfully impressed the judges during their tryouts. Both were given a spot among the top 100 young musicians in the state.
"I'm really proud of them," band director Luke Johnson said of his student's accomplishment. "This is a big honor for them to make the group."
The two musicians will now be sent music to practice before the state band comes together as an ensemble in March in Wichita. The group will practice for three days before giving a final performance for family and community members.
The first stop of the two student's journey was at district band tryouts. By receiving a "1" or "Superior" rating the two were eligible to try out for all state.
This is the second year that Fluevog has made state band and according to his placement, he is the sixth top trombone player in the state. He also made state his junior year and was the fifth top player that year.
Fluevog said he was nervous going into auditions because he wanted his senior year to end with a top rating. Next year he will continue his musical career as he starts college with a goal of becoming a music educator one day.
"For me it was another step in my music," he said of his placement in state band.
He's been playing trombone for seven years and has even added baritone, clarinet, and in the works, flute and saxophone to his repertoire. He said music was his life and that his "world revolves around it."
When Fluevog got started he said it was just a hobby. Now it's become the way he expresses himself to others. He said playing music relaxes him and puts him in a good mood.
Long said he also feels passionate about the music he plays. While he doesn't plan to make a career out of music, he said it would always be an important part of his life.
"It's something you can be passionate about," he said. "You can really get in the moment and get an adrenaline rush from playing."
This was the first year for Long to try out for the all-state band, but he said he hopes to make it for the rest of his years at LHS. This year's placement in the band makes Long the seventh top trombone player in the state. He's been playing the trombone for five years and is working to add tuba and trumpet to the hobby.
"This has shown me that I'm better than I thought I was," Long said.
As the band director of the two students, Johnson said he understands just how much it means for them to make the band. He said both students were "very good players" so he was optimistic that both would receive the rating they needed.
On top of the honor, he said playing with the top musicians from around the state as well as with a nationally renowned conductor would give the two an experience they couldn't get at home.