Lions advance to semifinals with tough 48-46 victory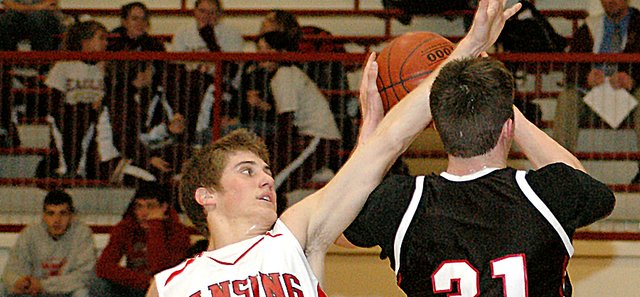 Photo Gallery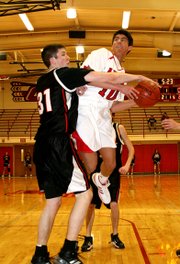 LHS boys beat Jeff West
The photos in this gallery were taken by Lansing High student Griffin Davis.
Photo Gallery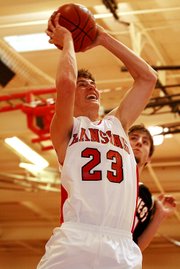 LHS boys edge Jeff West
The photos in this gallery were taken by Lansing High student Dylan Delich.
Photo Gallery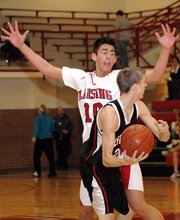 Lansing boys 48, Jeff West 46
Tonganoxie — Note to the Lansing High boys basketball players: You aren't operating under the radar anymore.
Second-year LHS coach Rod Briggs wants to make that crystal clear after his team's 7-3 start, a start that includes back-to-back nail-biting victories over scrappy opponents. Lansing needed overtime Friday to fend off Turner, and the Lions then hung on for a 48-46 victory over Jefferson County West on Monday in the first round of the Tonganoxie Invitational Tournament.
"We've got a target on our back now, and I don't think our guys really realize that yet," Briggs said.
That target likely got just a bit bigger when Lansing advanced to the tournament semifinals. It will play Rossville at 4:30 p.m. Friday with a spot in the finals at stake. Rossville won its first-round game against Eudora, 56-38.
The tournament finals are at 7 p.m. Saturday, and the third-place game is at 2:30 p.m.
Getting to the winner's bracket wasn't easy for the Lions. Despite racing to a 6-0 lead and holding Jeff West scoreless for the first five minutes, they never managed to put the Tigers away.
A pesky zone defense gave Lansing fits on the offensive end - a fact attributable both to how hard Jeff West played and that LHS didn't have practice on Sunday to prepare for it. That defensive strategy helped the Tigers claw back into the game. They used an 11-0 run during a five-minute stretch to take a 15-11 lead before the Lions rallied for a 22-20 halftime edge.
The game was back and forth throughout the third quarter with three ties and two lead changes. Then Jeff West opened the fourth quarter on a 7-0 run as Tom Shirley swished a pair of free throws and Blake Ross buried a three-pointer and scored on a layup. That gave the Tigers a 39-34 lead with 6:51 left.
Briggs called a quick timeout, and his team responded. Bobby Hauver had a steal and then went the other way for a layup. He was fouled on the play and converted the free throw. Then Curtis Beall sank two free throws, Hauver knocked down a 16-foot jumper and added another free throw. That tied the game at 42-42, and the Lions had momentum.
Stephen Didde knocked down a 14-footer, Beall hit a trey and Hauver chipped in another free throw as the Lions hung on for the victory.
"I was really impressed with our team and our composure," Briggs said of his team's ability to rally in the fourth quarter. "Curtis Beall and Bobby Hauver made some big plays down the stretch that won the game for us."
Hauver led the Lions with 14 points, Clayton Hall had 10, Beall scored seven, Kevin Johnson had six, Cody Rush had five, Didde scored four and Ryan Delich chipped in two.
Briggs said the Lions were hurt by not having a practice on Sunday. He said they would be much sharper for their match with Rossville.
"You give us a couple days of preparation and we'll be a much better team," he said.