Music students headed to state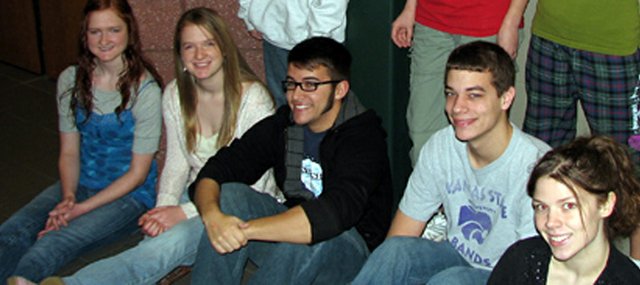 A handful of Basehor-Linwood school district singers and musicians recently learned they are state bound.
After performing in the Northeast Kansas Music Educators Association honor band and honor choir in December and another round of auditions, four Basehor-Linwood High School band students along with one BLHS choir student will be headed Feb. 28 to Wichita to participate in the state KMEA music convention. Three freshman vocalists also are headed to the state competition for mid-level grades.
Band director Curtis Westbrook said only one BLHS student advanced to state last year.
"I had expected to get one, maybe two students in the ensemble, but to get four is a pretty nice surprise," he said. "I work with these students every day, so it is easy for me to forget how capable of musicians they really are."
All of the state-bound band students are seniors: Sam Mustain, principal trumpet, Charissa Beeves, oboe, Kristen Beeves, French horn, and Alex McMillian, tuba. The majority of them said auditions for state were pretty relaxed since they were similar to the auditions they went through for the regional competition. Participants are known by numbers rather than names and stand behind a wall while they perform their prepared piece and scales for auditions. The judges only hear the performer's sound to avoid any bias when making their decisions.
Senior Andrea Adcox, the sole choir student headed to state, said auditions are about the same for choir students except they perform a section from three different songs. Adcox said that while the participants have been practicing the songs for several weeks before they audition, the scales portion is random and can prove to be difficult.
"That's one of the scariest parts, I think, for just about every kid that's done sight reading," Adcox said about the scales audition.
Lauren Jackson, senior, also made the grade for the state choir convention but is participating in the college release program this semester. She is not currently in choir class, which makes her ineligible to perform at state.
Students practice the pieces they will perform individually until they arrive at the three-day state choir, orchestra and band convention at the Century II Convention Center to rehearse with the other students from all over the state. Not only will they spend time rehearsing, they'll also watch several different musical groups perform and tour several music exhibits. While students are rehearsing, the directors have the opportunity to attend workshops, take notes and get new ideas, Westbrook said.
All the band students from 1A, 2A, 3A and 4A high schools will perform in one group while students from 5A and 6A schools will perform in another. Each band has about 100 students from across Kansas. All state high choir students perform in one large group of about 250 students. State middle school choir students perform in a separate large group. Both the high school band and choir students along with the orchestra will perform the afternoon of Saturday, March 1.
The trip to state is also a tool for the students' future. The students said they recognize that this opportunity will allow them to be more viable for college scholarships. Westbrook said what's nice is the students do not have to major in music to receive scholarships. They only have to participate throughout their college careers.
"All students who make any type of state band will be heavily recruited by pretty much every university in the state," Westbrook said. "I will have a handful of scholarship letters arrive addressed to each of them."