ROTC

instructors go back in time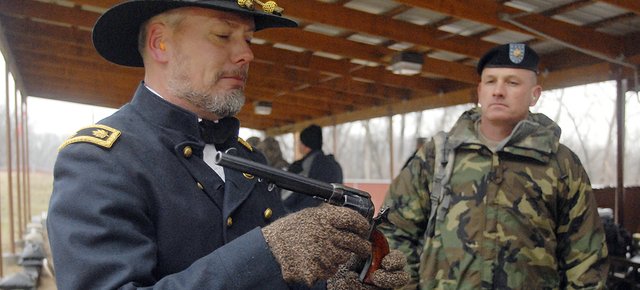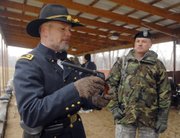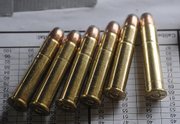 They were the guns that won the Civil War and the American West, and last week their modern-day replicas got a workout on a Fort Leavenworth firing range.
Army Lt. Col. Wayne Bergeron fired a couple of rounds from an 1873 Springfield carbine, a small rifle that was commonly carried by soldiers on the western frontier.
"It's a neat weapon. It felt good," said Bergeron, military science professor and ROTC battalion commander at the University of North Alabama.
But Bergeron said he wouldn't want to fight a war with the single-shot weapon, which required a soldier to load a new round in the breech each time it was fired.
"No, I'd rather not," Bergeron said. "It's a good hunting rifle."
Bergeron was among a group of 20 soldiers and civilians from across the country who fired the weapons as part of a two-week military history course they are taking at the fort's Combat Studies Institute. The course is designed to show instructors how to teach military history in university ROTC programs.
"If you are teaching about tactics you will understand better how the war of the period was fought knowing the weapons," said William G. Robertson, deputy director of the Combat Studies Institute.
Robertson demonstrated how to fire a Civil War musket, which involved several steps that included loading powder and a mini-ball before a soldier could fire it. The average firing rate of a soldier was two rounds a minute, he said.
Staff Sgt. John Ballesteros of Johns Hopkins University found loading and firing the musket a challenge. After firing the musket, he tried the more rapid-firing Henry repeating rifle, which was the forerunner to the famed Winchester repeating rifle. For historical purposes, he liked the musket.
"I can appreciate the effort the soldiers had to go through to survive," he said.
The historical weapons shoot was Lori Tagg's first experience at firing a gun.
"That one over there I shot before I even knew I'd pulled the trigger. That's probably not too good," Tagg, command historian at the Army Intelligence Center at Fort Huachuca, Ariz., said with a chuckle.
Rebecca Bullock, a college intern working at the Combat Studies Institute, watched the shooting while waiting her turn to use the guns with a later group. It would be her first time shooting a gun, as well. She said the musket looked a little intimidating to her.
Bullock, a 2006 Leavenworth High School graduate, is majoring in history and international studies at Graceland University in Lamoni, Iowa. She said she wanted to intern at the institute because she wanted to learn more about war than just what is in the history books.
"We really didn't learn anything about the fighting," she said of college texts. "I really felt like this would help round out information I didn't get."