Serving the citizen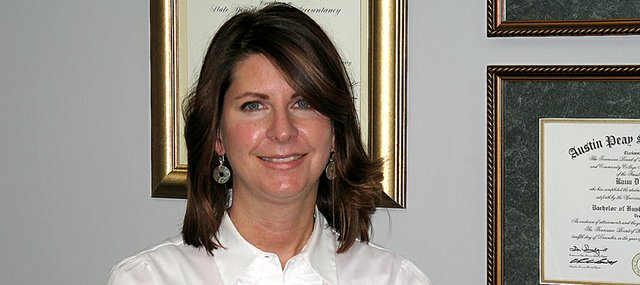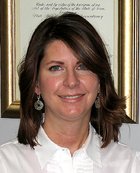 Rana Lacer came to Lansing at a pivotal time in the city's economic progression.
With construction on Towne Center beginning and plans for a new, 127-acre city park underway, Lacer, the new finance director for the city, said, "There's something really exciting about being in the middle of growth."
Lacer moved to Leavenworth County this summer when her husband, on active duty with the U.S. Army, was stationed at Fort Leavenworth.
She replaced Will Lundberg who served as Lansing's first finance director when the position was created about a year and a half ago.
Lacer had worked in the finance department in Killeen, Texas, a city similar to Lansing in that it is near a major military installation, Fort Hood.
While Killeen was significantly larger than Lansing, with a population of around 140,000, Lacer said the financial circumstances between the two cities are very similar.
"Most city governments exist to serve the basic needs of their citizens," she said. " : Everybody wants their trash picked up; everybody wants water to come out of their faucet when they turn it on; everyone wants to be able to call on their local police.
"A finance director is not the most glorious position : But there's a lot of money rolling into the city through property taxes and sales revenue. The city needs strong fiscal oversight to make sure those services are being funneled back to the residents in an adequate manner.
" : You're providing the same services but on a different ratio."
Lacer said she's no stranger to working with bonds like the ones being used to fund Lansing's Towne Center. The city of Killeen issued nearly $180 million in bonds over a five-year period to pay for such improvements as a new fire and police department facility, a new administrative building and massive road improvements, she said.
"I don't feel like I'm on a learning curve with the processes," Lacer explained but added that regulatory differences and differences in state statutes obviously exist.
So far Lacer said she's liked what she's seen.
She called city staff "competent" and "focused" and said of Lansing's general direction, "I've been really impressed at how the city has sought out unique financing mechanisms to encourage development."
NAME: Rana Lacer
ADDRESS: Fort Leavenworth
OCCUPATION: Finance Director for the city of Lansing
FAMILY: Elden, husband; Kristen, 20, daughter
HOW LONG HAVE YOU LIVED IN LANSING, AND WHAT BROUGHT YOU HERE? "Just since July, and obviously Fort Leavenworth right now."
WHAT DO YOU LIKE MOST ABOUT LANSING? "A small town, community atmosphere but with big city amenities nearby."
WHAT DO YOU DO FOR FUN? "I love traveling. I'm a serial vacationer : Anything outside, gardening, working outdoors. I like reading a lot."
WHAT MIGHT SURPRISE PEOPLE ABOUT YOU? "My goal every year is to jump out of an airplane."
WHAT IS THE BEST ADVICE YOU HAVE EVER RECEIVED? "What comes around goes around."
WHAT CLUBS OR ORGANIZATIONS DO YOU BELONG TO? National, state and regional Government Finance Officers Associations and the American Institute of Certified Public Accountants