Terron turns the page
Freshman erases huge deficit, earns confidence-building victory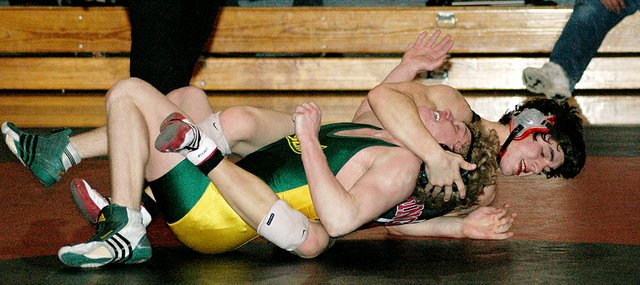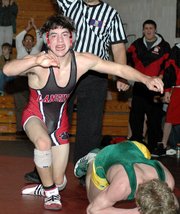 Photo Gallery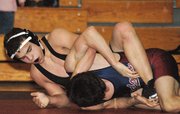 LHS wrestling vs. Eudora, Basehor
The weather outside Wednesday night was reminiscent in many ways of the way Lansing High freshman Tyler Terron's wrestling season has gone so far - bitter and cold.
"It's been very frustrating," he said. "Last year I was really good and went to Kids Club State and stuff, and this year I just come and get beat."
Thank goodness for January.
"It's a new year," he said. "Time to turn it around."
As the snow blanketed the Lansing High campus, Terron's season took a turn for the better inside Johnsmeyer Gymnasium.
Earlier in the evening he dropped his first match at Lansing's triangular with Eudora and Basehor-Linwood. His final match against Basehor junior Austin Call wasn't faring much better as Terron trailed 9-2 late in the second period.
That's when he decided he'd had enough.
Terron scored an escape point late in the period, and then went on the attack as the third period began. A reversal and a takedown tightened the match. Another takedown late in regulation tied it and forced overtime.
By then, the crowd was on its feet and a visibly exhausted Terron was on the verge of collapse.
"I heard 'em stomping," Terron said. "It pushes me. It makes me want to win."
Call went on the attack as overtime began, but he missed an opportunity for a takedown when he and Terron stepped out of bounds. Moments later Call took another shot. Terron slipped around him, however, and dragged Call to the mat for two points.
Match over: 13-11.
Terron said he drew confidence that he could win after watching fellow freshman Dillon Scanlon erase a third-period deficit and claim an overtime victory on Saturday at the Bobcat Classic.
"I just wanted to do the same thing," Terron said.
LHS coach Ron Averill said Terron's ability to pull out the victory was a tribute to the way he practiced last week.
"One of the biggest factors in all of competition is the mental aspect, and I really saw him willingly go ahead and step up and push himself through the wall a few times this week," Averill said. "I've been telling him, 'It's not until you're willing to push yourself through that wall that you're going to be able to win those matches like that. When you do it in practice, you can do it in competition. And, boy, he sure showed that's true because he did it in competition tonight."
Terron's record now is 6-12 this season, but Averill said on Wednesday the freshman took a big step toward achieving his goal of qualifying for state.
"Going into regionals his record is important for seeds," Averill said. "But when you wrestle like that, you're going to state."
Terron may have had the most intense match of the night, but the Lions as a whole weren't too shabby, either.
Lansing opened the night with a 39-30 come-from-behind victory over Eudora. The Lions fell behind 18-0 quickly as Eudora's Cody Salzman pinned Brett Brown at 103, John Chumbley picked up a forfeit victory because LHS was open at 112 and Jackson Wiley pinned Garrett Hinckley at 119.
Lansing began the long climb back with a pair of first-period pins by Spencer Blew at 125 and Scanlon at 130. Wes Appleget netted three more points for LHS when he rallied for an 11-10 victory over Max Campbell at 135.
"Wes is always in there digging, and that's the good thing about him is he doesn't give up," Averill said. "He keeps working, and he was a state qualifier last year because of that. We're just hoping to see him continue to keep growing throughout the season."
Appleget's victory brought the Lions within 18-15 in the team scores. Travis Clarke (ranked No. 5 in Class 4A) pinned Terron at 140, however, and the Cardinals extended their advantage to nine points at 24-15.
LHS collected victories in five of the final seven weight classes. Tyler Baughman edged Derek Scrimsher at 145 pounds, 4-0, and Ethan Williams collected six points for a forfeit victory at 152 that tied the dual at 24-24.
Nick Flynn, Lansing's usual 152-pounder, bumped up to 160 to face Eudora's Jacob Love. The match exposed Flynn to a bigger, stronger opponent, and he handled it just fine as he built an 8-1 lead before earning a second-period pin.
Lansing's usual 160-pounder, Grant Hinckley, competed at 171 and lost an 8-5 decision to Chase Rust. Nathan Wessel jumped from 171 to 189 and beat Eudora's Caleb Clayton-Molby, 8-4. Then Tyler Strouhal lost 8-4 to Evan Meyers (No. 5 in Class 4A at 189). Zach Hammer collected a forfeit victory at 285 that capped Lansing's victory.
The dual with Basehor started slow for LHS as Brown lost to Mike Torrez, 6-0, and the Lions then forfeited because they were open at 112. Garrett Hinckley and Blew picked up victories, but Basehor rallied back as Joe Johnson won by major decision over Scanlon and Martin Buck pinned Appleget.
At that point the Bobcats held a 19-12 lead, but it didn't last long. Lansing didn't lose another match the rest of the night, and the big finish started with Terron's wild win against Call.
After that, Baughman won by pin, Flynn won at 152 by forfeit, Grant Hinckley won at 160 with a first-period pin of Zach Roberts, Wessel won by forfeit at 171, Brian Snodgrass pinned Andrew Stueckemann at 189 and Strouhal pinned Josh Bowen in just 15 seconds. Then Hammer pinned Jordan Chaney to close out the Lions' 57-19 victory.
In the evening's other matchup, Eudora beat Basehor, 54-18.
The triangular served as Lansing's tune-up for the Holton Invitational, which begins at 9:30 a.m. Saturday at Holton High School.